Beyonce Praises Fellow Super Bowl Performers: 'Proud Day for African American Women'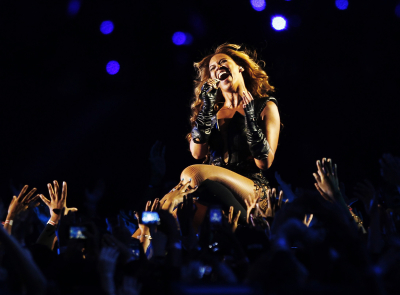 Beyonce paid tribute to her fellow performers following her Super Bowl halftime show on Sunday, and the singer hailed the event a "proud day for African American women."
The singer rocked the stadium with a captivating dance routine and catchy tunes. Destiny's Child band members Kelly Rowland and Michelle Williams joined the singer during a surprise reunion show. in separate performances, singers Jennifer Hudson and Alicia Keys took the stage earlier in the evening, ultimately drawing praise from Beyonce.
"What a proud day for AFRICAN AMERICAN WOMEN!!!!!" Beyonce wrote in a Tumblr post. "Kelly, Michelle, Alicia, Jhud. You are all beautiful, talented and showed so much class! It was an honour to perform at the Super Bowl with you phenomenal ladies. Love Beyonce."
The 31-year-old opted to sing live during her energetic performance, flawlessly belting out various hits including "Love on Top" and "Halo." Rowland and Michelle joined Beyonce for "Bootylicious," "Independent Woman," and "Single Ladies."
"Had a great time w/my sisters tonight!! Tried to keep it a surprise!! Love you all...God bless!!" Williams tweeted after the group performance.
Fans flocked to social networking site Twitter to applaud Beyonce's captivating performance and the singer received praise from various high profile celebrities including her husband Jay-Z and First Lady of the United States Michelle Obama.
"'Watching the #SuperBowl with family & friends. @Beyonce was phenomenal! I am so proud of her! -mo," Mrs. Obama tweeted.
"Lights out!!!! Any questions??" Jay-Z tweeted while jokingly attributing his wife's performance to the brief power outage.
"No. One. Better," Solange Knowles tweeted.
"Beautiful note from @beyonce!! Big Love 2 @KELLYROWLAND & @realmichelleW 1 of my Favorite parts of the show!!! Still on 10!! #SB47 ;-)," Alicia Keys tweeted.
"OMG Beyonce killed it!!! And when Destiny's Child came out...that made my life! #Bootylicious," Kim Kardashian tweeted.