Beyonce Praises First Lady Michelle Obama in Handwritten Letter
Twitter: Beyonce
Beyonce Knowles recently expressed her admiration for Michelle Obama in a handwritten letter which thanks the First Lady for acting as a positive role model, particularly for her 3-month old daughter, Blue Ivy.
The "Love On Top" singer, who has been an active supporter of the First Lady's "Let's Move" campaign, reportedly wrote the letter during a recent family vacation in St. Barts, according to reports.
"Michelle, thank you so much for every single thing that you do for us – I am proud to have my daughter grow up in a world where she has people like you, to look up to," Beyonce wrote.
The new mother also praised the First Lady for having great strength and grace even when she is scrutinized by the media.
"Michelle, is the ULTIMATE example of a truly strong African American woman. She is a caring mother, she's a loving wife, while at the same time, she is the FIRST LADY!!" Beyonce wrote.
"No matter the pressure, and the stress of being under the microscope – she's humble, loving, and sincere. She builds and nurtures her family, while also looking out for so many millions in so many ways," she added before ending it off with "Love, Beyoncé."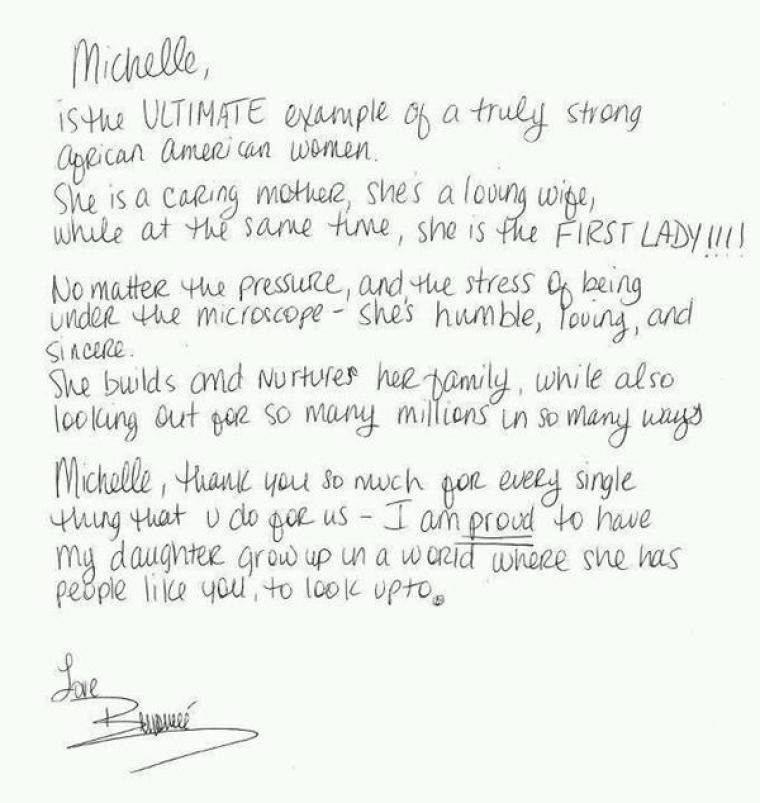 Mrs. Obama has previously spoken about her appreciation for Beyonce and in 2009 invited the Grammy award-winning artist to sing during her first dance with newly elected president, Barack Obama, at the "Neighborhood Ball."
"Beyoncé is an incredible young woman. Barack and I have met her on a few occasions, and it was a great honor to hear her sing 'At Last' so beautifully at the inauguration. She is so talented and so real, and we just love her," Mrs. Obama told Ebony Magazine.
The 31-year-old was thrilled when she was asked to give her rendition of the late Etta James' classic song "At Last," and admits that she often watches tapes of her performance.
"I was completely anxious and honored. Honestly, I've watched [the tape of the performance] every day because I just want to relive the moment," Beyonce told the magazine.
Beyonce teamed up with Mrs. Obama in 2011 to help promote the First Lady's "Let's Move" campaign, which is designed to help tackle childhood obesity.
The singer created a workout video for a remixed song called "Move Your Body," which is distributed to junior high school students across the U.S.
"It's all about promoting the benefits of healthy eating and exercise. But what we want to do is make it fun by doing something that we all love to do, and that's dance," Beyonce explained in the official campaign video.