Bieber Alleged Drug Photos: Is Lil Twist A Bad Influence On Justin?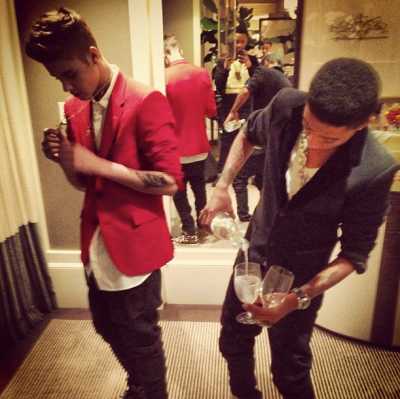 Justin Bieber recently took to Twitter where he vowed to be a "better person" following the release of alleged drug photos. The singer was recently photographed holding a suspicious cigarette.
Bieber, 19, was reportedly smoking marijuana on Jan. 2 with 19-year-old Dallas rapper Lil Twist, the same man he was with when Chris Guerra, a 29-year-old freelancer photographer, was struck by a car while attempting to capture photos of Bieber's Ferrari, according to TMZ.
"Everyday growing and learning. trying to be better. u get knocked down, u get up," Bieber tweeted Jan. 5 in what appeared to be his response to the alleged marijuana photos.
Other cryptic tweets read, "i see all of u. i hear all of u...i never want to let any of you down. i love u. and..thank u...like i said...2013...new challenges. new doubters...Im ready."
Concerned fans have now begun to question whether Bieber's friendship with Lil Twist, real name Christopher L. Moore, is good for his music career. The "Boyfriend" singer has found himself getting into some trouble since growing closer to the rapper in recent weeks.
On New Years Eve Bieber and Lil Twist partied hard in Mexico just hours after he split from his girlfriend of three years Selena Gomez, 20. The pair was allegedly in good spirits despite Bieber's breakup and they popped bottles of champagne. Mexico's legal drinking age is 18.
The following day Lil Twist was reportedly driving Bieber's white 458 Italia Ferrari, the same car that Guerra was tailing before he died, and he was later pulled over by police on the I-405 off ramp in Los Angeles.
A day later Bieber and his new companion were allegedly rolling marijuana filled cigarettes for a small group of guests at a Newport Beach hotel, the same place where the controversial photos were taken. The duo has reportedly smoked together on several occasions, according to TMZ.
Lil Twist, whose Twitter profile photo shows him puffing on a suspicious cigarette, recently took to Twitter amid claims that he is a bad influence on Bieber. He appeared to have a direct message for Bieber and their haters.
"Tellem all to fall off of it!" an unfazed Lil Twist tweeted Jan. 6.
Photog's Last Call -- He Absolutely Believed Justin Bieber Was Smoking Pot
Justin Bieber, Selena Gomez Break Up: Stars End Romantic Relationship After 2 Years