Boy Prevented From Bringing 'My Little Pony' Backpack to School - Officials Call It 'Trigger for Bullying'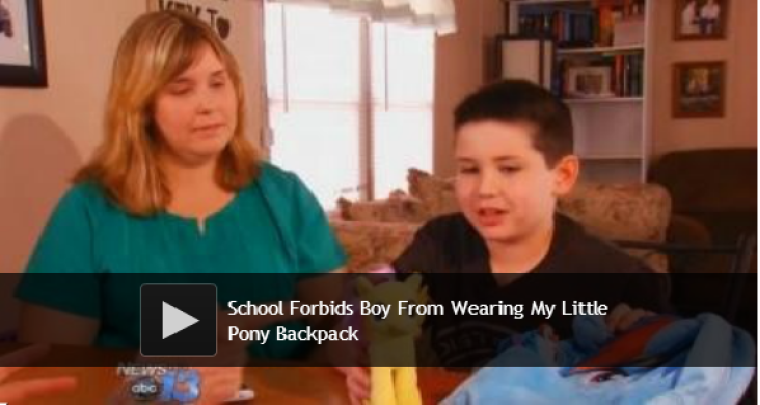 A boy who simply wants to wear a "My Little Pony" to school has been denied that option because the school says it could be a trigger for bullying. However, nationwide support may change the officials' minds as the issue becomes bigger than the school itself.
"They're taking it a little too far," 9-year-old Grayson Bruce, told WLOS News 13, "with punching me, pushing me down, calling me horrible names, stuff that really shouldn't happen. Most of the characters in the show are girls, and most of the people put it toward girls, most of the toys are girlie."
Nonetheless, Grayson wants to be able to show his support for "My Little Pony" and has a backpack featuring one of the ponies. The school said that he had to leave it at home because it was a "trigger for bullying." Grayson's mother, however, feels that the wrong person is being "punished."
"Saying a lunchbox is a trigger for bullying is like saying a short skirt is a trigger for rape," Noreen Bruce said. "It's flawed logic; it doesn't make any sense."
People learning about Grayson's story have started a petition to change the school officials' minds and allow the boy to take his bag to school. A friend started a Facebook page that has gotten thousands of "likes" and messages encouraging Grayson to be himself and not to give into the bullies.
Of course, the school is likely remembering the case of Michael Morones, 11, who tried to commit suicide because he was bullied for liking "My Little Pony." Thankfully he survived the attempt and will be undergoing serious rehabilitation. More and more boys are coming forward to share their love of all things "My Little Pony" and finding resistance, especially at younger ages.
Older boys and men calling themselves Bronies and have formed nationwide groups where they can share their collections and love of "My Little Pony." Many of these young men have reached out to Grayson and Michael in order to offer their support and encouragement.
"I liked MLP when I was a kid, too," Nate Alig posted on the Facebook page #SupportForGrayson. "Rock on man, don't let anyone tell you what you're supposed to like. They're just afraid to be themselves. Keep being rad."
"An initial step was taken to immediately address a situation that had created a disruption in the classroom," Jason Rhodes, assistant communications director for Buncombe County Schools, said in an official statement. "Buncombe County Schools take bullying very seriously, and we will continue to take steps to resolve this issue."