Colorado Shooting Gunman James Holmes Insane, Believes He is Joker? (VIDEO)
Following the "Dark Knight" shooting in Colorado, which left 12 dead and dozens others injured, new video footage of the suspect has revealed an aspiring scientist that may have gone mad through the study of his own research about fantasy and the future.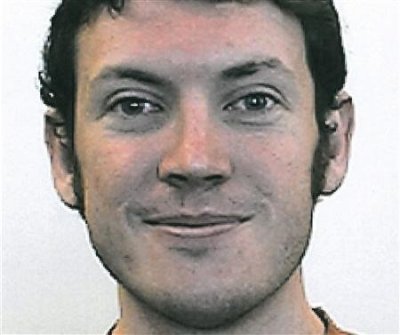 James Holmes was arrested early Friday morning after opening fire and gassing out a packed theater filled with fans eager to see "The Dark Knight Rises." Remnant of one of the film's scenes but missing a hero to save them all, a number of questions have arisen surrounding the man who referred to himself as "The Joker."
The first video footage of Holmes that gives insight into the type of person he once may have been surfaced on Sunday morning. The footage shows Holmes at the young age of 18, talking to a room full of peers about his study of temporal illusions. Other background information on Holmes, including a profile on Match.com reveals his fascination with futuristic studies and the boundaries of fantasy and reality.
"Over the course of the summer I've been working with a temporal illusion. It's an illusion that allows you to change the past," Holmes says in a video obtained by ABC that shows the suspect attending a science camp at Miramar College in San Diego.
A different picture has now been painted of Holmes however who, according to the NY Police Commissioner, has referred to himself as "The Joker." Pictures taken of Holmes for his active Match.com profile show the original color of his hair has been bleached out and died orange.
Prison employees at Arapahoe Detention Center have stated that Holmes appears to believe that he is in a movie, according to Mail Online which confirmed that Holmes has been placed in solitary confinement for his own safety.
"He was spitting at the door and spitting at the guards," said one inmate who left the jail today according to Mail Online. "He's spitting at everything. Dude was acting crazy."
Members of the staff have also revealed that Holmes appears to be apathetic and dillusional.
"Let's just say he hasn't shown any remorse," one staff member at the prison reported. "He thinks he's acting in a movie."
A second inmate revealed that a number of attempts have been made to conceal Holmes' appearance and activity while he is in prison.
The jail guards "blacked out his windows with duct tape so no one could see him," Dima Danilov, 22, told Mail Online while also stating that a red towel had been placed over Holmes' head upon his arrival at the prison.
Shooting Suspect Identified: James Holmes of Aurora Colorado
Dozens Dead, Injured in Colo. Theater Shooting