Cop Photo Goes Viral: Police Officer Delivers Milk to Family Amid Boston Bombing Manhunt (PHOTO)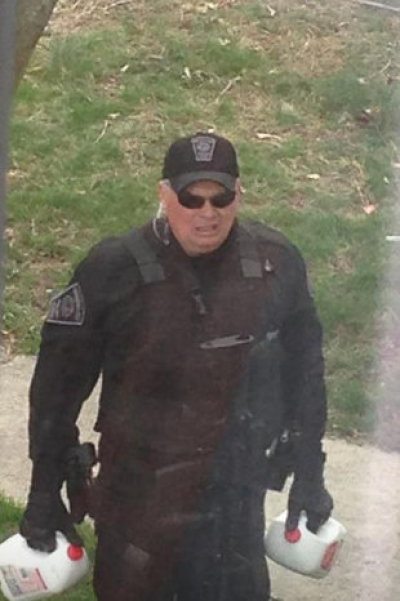 A cop photo has gone viral after the Boston police officer was snapped delivering milk to a family with a baby as the city was put on lockdown last week as the mass manhunt for Boston bomber Dzhokhar Tsarnaev took place.
Hundreds of police officers and FBI agents were drafted into Boston to hunt for Dzhokhar, the Boston Marathon bombing suspect, who had evaded capture the night before during a shootout which killed his brother.
During the search all residents across Boston were told to remain indoors and not to answer the door to anyone other than those who identified themselves as police.
Despite the gravity of the situation, the police officer from Brookline found out about the needs of one young family with a small baby, and went out of his way to buy and deliver the milk to them.
The photo of the officer has since been posted by the family who received the milk, and the photo has now gone viral, with commenters roundly praising the officer for his kindness and understanding.
The Boston Police Department also took to social media site Twitter, and tweeted: "BPD Officer delivers milk to a family with young children in Watertown during the lockdown."
The officer in the picture has been identified as John Bradley. In the photo, taken by the baby's father Kevin Wells, the officer can be seen carrying two gallons of milk.
Wells has a 17-month-old son who needed milk, and it has since been reported that the baby's grandmother asked the officer if he could get some milk for the family while the town was in lockdown.
Kevin's wife McKenzie told Today.com: "It just meant the world that he literally went out and got two gallons of milk. We wanted to pay him, but he wouldn't take money from us. He was just so generous."
Since the photo was tweeted, it has been shared over 100,000 times.
The mass manhunt for the Boston bombing suspect came to an end later on Friday, April 19 when 19-year-old Dzhokhar was captured alive hiding in a boat at 76 Franklin St. in Watertown, Mass.
Here is the moment the authorities caught the Boston bombing suspect: