'Curb Your Enthusiasm' Season Episode 1 Airs Oct. 1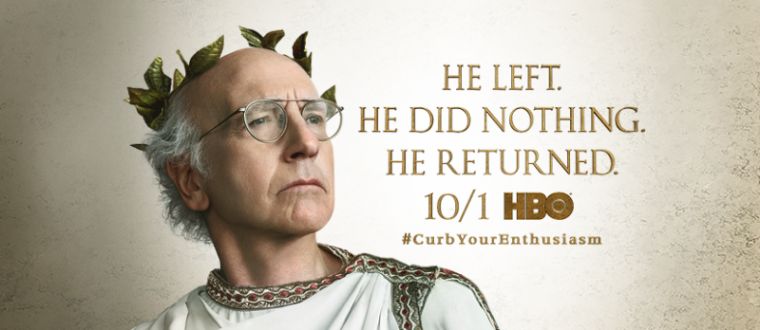 After six years of waiting, long-running comedy series "Curb Your Enthusiasm" will be returning for its ninth season.
HBO has released on Monday, July 10, the official teaser of the upcoming season, which depicted the series' creator Larry David as someone resembling Julius Caesar. The video and the show's latest poster also featured the famed Julius Caesar quote, " I left, I did nothing, I returned."
It was also revealed in the announcement video that season 9 of the comedy show will be premiering on Sunday, Oct. 1. The upcoming season will come with 10 episodes, and will air six years after the last episode of season eight aired in 2011.
As reported by The Hollywood Reporter, the ninth season will feature the return of fan favorites such as Jeff Garlin, JB Smoove and Susie Essman, with Garlin also serving as the show's executive producer along with David and Jeff Schaffer.
There are also reports that the new season of the comedy series will also include the return of Cheryl Hines, Mary Steenburgen, Ted Danson, Bob Einstein and Richard Lewis. Laura Graham fro "Gilmore Girls" will also reportedly appear on the show as a guest star.
"Curb Your Enthusiasm" first debuted on HBO back in 1999 as a TV special. It went on to become a full-fledged TV series earning a couple of Emmy Awards until its eighth season wrapped back in 2011.
For years, people have wondered if David had completely abandoned the popular comedy series, but due to public demand and the encouragement of his co-stars and HBO executives, the "Seinfeld" co-creator agreed to come back for another season.
After the eighth season of "Curb," David worked on the HBO original movie "Clear History" and also played Bernie Sanders in the "Saturday Night Live" sketch "Bern Your Enthusiasm."
The much-awaited ninth season of "Curb Your Enthusiasm" is scheduled to premiere on Sunday, Oct. 1, at 10 p.m. ET.