'Days of Our Lives' Spoilers: Eve Reacts to JJ and Paige's Actions
Yesterday on "Days of Our Lives," JJ attempts to tell Paige the truth about what happened between him and Eve. "Your mom and I ... it shouldn't have happened." He tells her that he'll explain once they get to his place.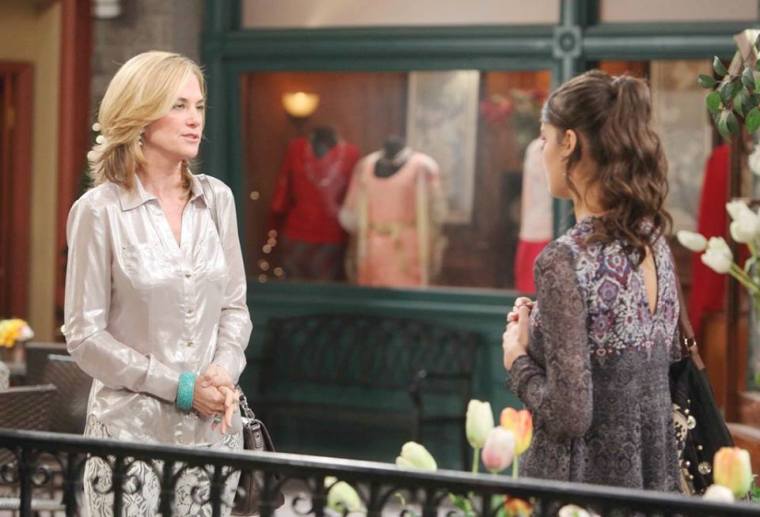 At Melanie's, she says that what likely happened before is an embryo transplant from Theresa to Kristen. Brady is surprised at this and tells Melanie that Kristen told him before she left that she would be carrying a part of him with her.
Melanie says that Kristen may have given birth by now. Brady wants to go now and find out if he has a son or a daughter out there. He calls his pilot and orders him to get the jet ready. Melanie tells him that she's coming with him. Daniel arrives, and Melanie tells him that she's leaving for a week to see her mother.
At JJ's place, he tells Paige that he and Eve absolutely hate each other and that's never going to change. He knows that Eve will do everything she can to break them up, but he tells Paige that he loves her and that will never change. They go into his room and get intimate with each other.
Melanie gets on Brady's jet and says hello to the pilot. She says that she's there to see Brady, but since he's not there yet, she asks if it's ok to leave a note for him. Brady arrives and reads Melanie's note asking him to be safe, not knowing that Melanie is in the jet and is hiding in a closet.
Here's what to expect on "Days of Our Lives" on Friday, April 17:
Dan and Nicole reconcile; A conniving Kate betrays Lucas; Eve has a huge reaction when she realizes that JJ and Paige have slept together.
"Days of Our Lives" airs from Mondays to Fridays at 1 p.m. on NBC.