'Days of Our Lives' Spoilers, Plot News April 20 to 24: Jennifer Confronts Eve
Last Friday on "Days of Our Lives," Kate tells Victor how angry she is because of a rumor claiming that her son, Lucas and Adrienne are having an affair.
Lucas heads to the Kiriakis mansion and tells Adrienne that he can't stay away from her. They go to her room and lock themselves in. Victor arrives and knocks on Adrienne's door. She tells him that she'll be there in a minute. He says that's fine before adding, "Oh and Lucas, you're fired."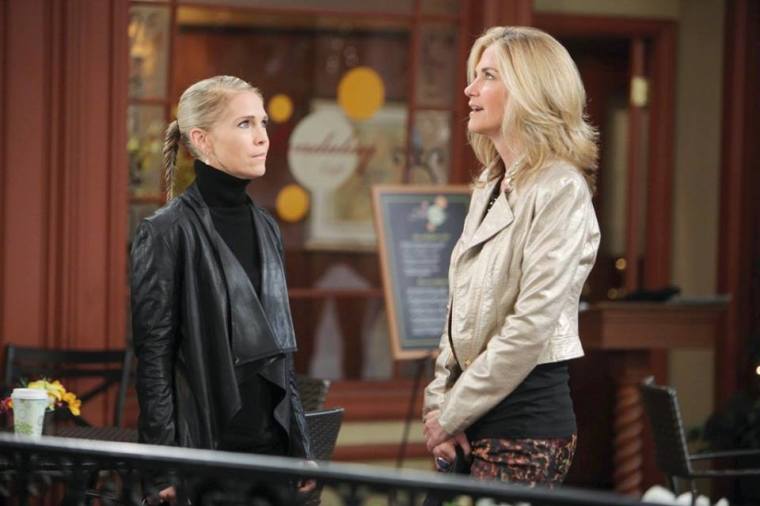 Across town, Eve says that JJ is not going to get her daughter. Cole arrives and asks where Paige is because she wasn't in class today. Eve gets angry and Cole apologizes and says that he'll make sure to keep an eye on her next time.
At JJ's house, he and Paige are together in his room when Jennifer arrives and calls for him. JJ quickly dresses and rushes down to greet his mother and tells her that he and Paige have been studying. Paige appears and JJ walks her out, saying that it's a shame that his mom got home early. Paige tells him not to worry about it and goes. JJ goes back into the house and Jennifer says that she hopes that they're "safe". He insists that he was. He says that he's still worried about Daniel telling on him. JJ also mentions that he left his brown leather jacket at Eve's house and he's worried that she might use that against him.
Paige arrives home and tells her mother that she has been with JJ. Paige tries to hide the smile on her face, which makes Eve look at her closely. Paige excuses herself and leaves. Realizing that JJ slept with Paige, Eve screams and wrecks things in her apartment.
Here are the "Days of Our Lives" spoilers for April 20 to 24:
April 20 (Monday): Adrienne tells Sonny that she's having an affair; Abigail learns that Ben has been hiding things about his past.
April 21 (Tuesday): Kristen and Brady come face to face; John tries to make amends with Paul; Clyde affects the outcome of Ben's legal situation.
April 22 (Wednesday): Brady and Kristen play cat and mouse; Jennifer confronts Eve about her feelings.
April 23 (Thursday): Kristen works to keep Brady from learning her secret; Jennifer tries to be more understanding as she seeks the root of Eve's problems.
April 24 (Friday): Will turns to Marlena for help when he suspects that Victor is trying to undermine his marriage.
"Days of Our Lives" airs from Mondays to Fridays at 1 p.m. on NBC.