Diana Photo Mystery Man Identified: Adam Russell - Great Grandson of PM Stanley Baldwin
Diana Photo Mystery Man Identified: Adam Russell - Great Grandson of PM Stanley Baldwin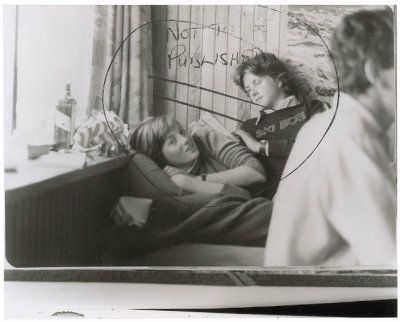 The Princess Diana photo "mystery man" has been identified as Adam Russell, a student at Oxford University at the time.
The man's identity had intrigued millions across the world, as a new photo of Princess Diana emerged this week that showed her beside the man in an old photo. The picture had a "not to be publish" label written over it, further adding to the intrigue.
The photo was of Princess Diana before she married into the British Royal Family, and is being put up for auction later this month by the photo's owner Eric Caren of Caren Archive. Carne had claimed to have purchased the picture from The Daily Mirror - a UK tabloid newspaper.
The man in the photo has now been confirmed as the great grandson of former British Prime Minister Stanley Baldwin - Adam Russell. He is still alive and is currently a deer farmer in the Dorset countryside in England, according to reports.
According to ABC News, Russell has himself spoken to confirm he was the man in the photo with Princess Diana, but he refused to offer any further details or insight into the circumstances of the photo, and why they were laying seemingly intimately together.
British Royal Family biographer, Andrew Morton, has said that the princess and Russell were just friends, and there was nothing more to their relationship, as some have some to suggest from the photo.
Morton has written a book entitled "Diana, Her True Story - In Her Own Words." It is he write how Princess Diana was invited by Mary-Ann Stewart-Richardson to join her family on a skiing holiday in the Alps in France.
During that trip it was said that both ended up suffering slight knocks and injuries and so ended up spending a lot of time together as friends. It was described that Diana fell while skiing and tore the tendons in her left ankle.
The new photo of Diana has been put up for auction by RR Auction, with bidding starting at $200 running from Jan. 17-Jan 24, 2013.
The New Hampshire-based auction house describes the certifiably authentic black and white photo on its website:
Teenage image of the future princess emphatically labeled "not to be published"
Uncommon early 10 x 8 glossy news photo of a young Diana lying in bed, with a young man seated behind her, and a bottle of Johnnie Walker sitting on the window sill. Stamped February 1981 on back, the image is clear. The image has crop lines and 'Not to be published' handwritten on the front. Note on back, otherwise light wear. A super early image quite possibly never seen by the public. RR Auction COA.
Princess Diana went on to marry Prince Charles, who is first in line to be the next monarch in the British Royal Family. They married in 1981 when Diana was just 20 years old. However, Diana died in a car crash in aPries on Aug. 31, 1997.
Here is a news report of the Princess Diana photo: