Duck Dynasty Christmas Special 2013 Episode Live Stream Free: How to Watch Robertson Family A&E TV Special Show Online
The Duck Dynasty Christmas Special 2013 episode will broadcast on the A&E network Wednesday night and should be an episode fans will not want to miss, as the Robertson family have promised an action-packed and hilarious episode to get America warmed up for Christmas. The Christmas Special episode will start at 10 p.m. ET and can be watched online on the A&E website through free live stream (details below).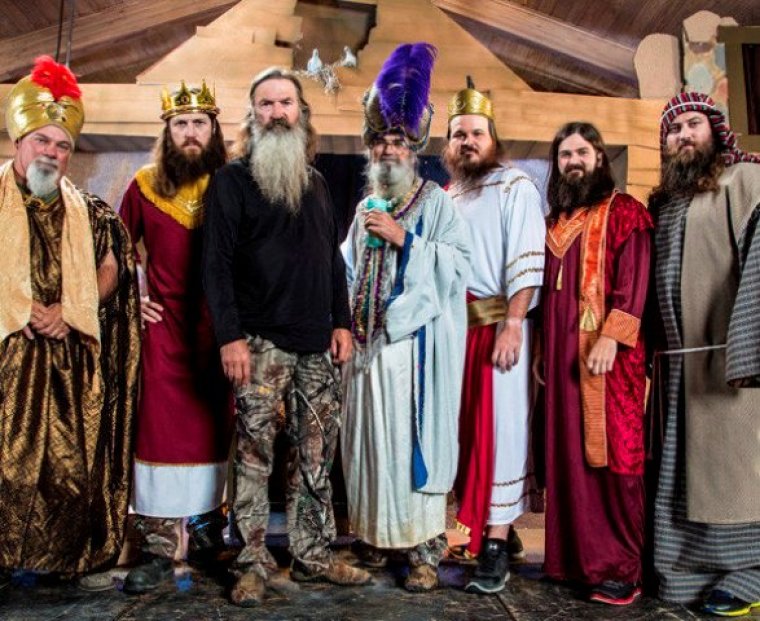 The special episode should give fans an insight into how the Robertson family will be spending their Christmas this year. The episode will be featuring the family's favorite recipes, including duck and banana pudding, and is sure to be hilarious as always.
An episode description has mentioned: "The Robertsons perform a live nativity for their Church for Christmas, so the wives organize rehearsals to ensure that they pull off a great event."
It adds: "However, rehearsals get off to a bumpy start as the guys can't stop sharing their opinions. In between rehearsals, Willie and Jase struggle to get their wives the perfect Christmas gifts and they unenthusiastically take Jep's advice."
Last year's special Christmas episode was titled "Redneck Christmas" and was a smash hit in 2012, and this year's episode promises to be even better. The Robertson clan has sought to spread Christmas cheer in other ways besides television, with their Christmas album "Duck the Halls: A Robertson Family Christmas," and Uncle Si's recent cameo in a Christmas episode for the Christian animated series "Veggie Tales."
Tonight's episode will be an hour-long special and will feature all of the Robertsons participating in Christmas cheer, as they prepare food and go gift shopping, among other activities. They will also be shown gathering to participate in a live Nativity scene.
In a promotional clip for the special Christmas episode, Willie Robertson, the CEO of the family duck call business, says he doesn't want much for the holidays: "I like unique gifts that people give me as long as they're from the heart. They don't have to be expensive or anything, just something that's had some thought put into it. When I get something like that, it's pretty special. However, guns and knives are always fun."
The Robertson children also said in the clip that they would like electronics, such as the new iPhone, and gas money.
Kori Robertson said she's fine with any type of gift from Santa as long as it's a surprise, while Jase Robertson said he'd like a new grill.
Miss Kay said she'd like kitchen supplies, while Phil Robertson wished for peace on earth and Si Robertson wished for good health.
In another clip of the episode posted by Entertainment Weekly, Phil takes Miss Kay and Jessica hunting to catch a hog for the family Christmas dinner.
The Duck Dynasty Christmas Special 2013 episode will start at 10 p.m. ET on the A&E TV network, and can also be watched online through free live stream on the A&E website by clicking here.
Here is a video preview promo for the Christmas special: