'Falling Skies' Wraps Up Production for Season 5
'Falling Skies' Wraps Up Production for Season 5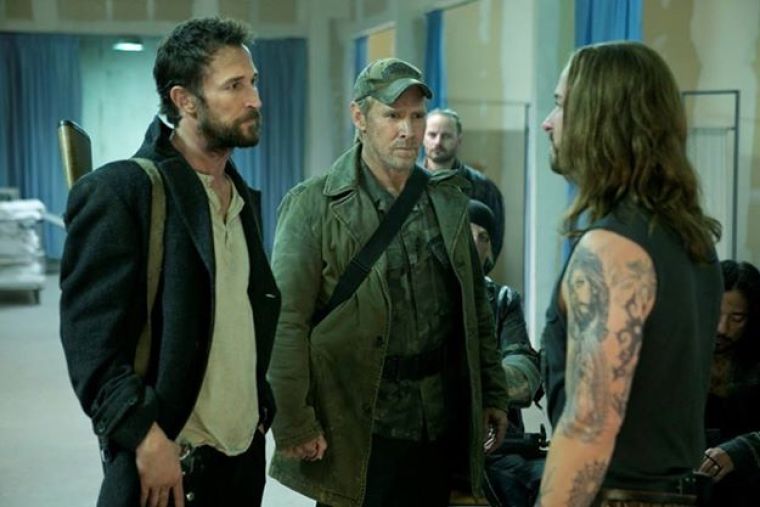 TNT has wrapped up filming for the fifth and final season of its science fiction, post apocalyptic series "Falling Skies."
"Falling Skies" ended production in Vancouver last week. While fans were no doubt saddened that the show is very soon coming to an end, the cast and crew were nothing if not positive as they tweeted and shared behind the scenes photos of their final days on set.
Drew Roy and Maxim Knight, who play Hal Mason and as Matt Mason, respectively, tweeted numerous photos of the set and the cast members, as well as pictures of the alien Cochise.
Sarah Carter, who plays Maggie, tweeted a photo of herself and the cast members, saying, "Last day wearing these dirty boots." She also mentioned Maggie's final words as being "I'll kick your a--."
Connor Jessup, who plays Ben Mason, tweeted, "After six years of absurd fun with the very best people I know. The final day of shooting on @FallingSkiesTNT."
"Falling Skies" season five will be premiering sometime this summer with 10 episodes. It will pick up after the events of the previous season when the second mass managed to survive the ground assault and the new human-trapping tactics launched by the Espheni.
Tom and his half alien daughter were able to destroy the moon base that was controlling alien operations across the planet. However, at the end of season four, they were faced with a new invading alien race, which even the Espheni fear.
"Falling Skies" was created by Robert Rodat and premiered its first season in June 2011. It tells the story of survivors coming together to fight against an alien attack that has crippled the world.
Reprising their roles for its fifth and last season are Jessup, Carter, Roy, Knight, Noah Wyle as Tom Mason, Moon Bloodgood as Anne Glass, Colin Cunningham as John Pope and many more.