Female Reporter Sexually Harassed While Filming Report on Sexual Harassment (VIDEO)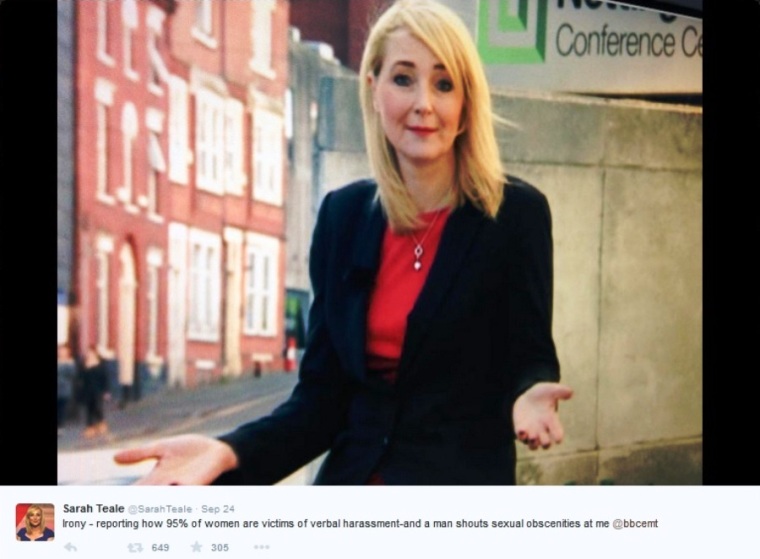 A BBC reporter became a victim of sexual harassment while reporting about the prevalence of the very same subject.
Journalist Sarah Teale was filming on the streets for a BBC Radio Nottingham segment on sexual harassment against women when she was subjected to heckling by a passerby.
While reporting about an online study of how 95 percent of women have admitted to experiencing harassment on the street, including being jeered at, having obscenities shouted at them, or being inappropriately touched, grabbed or groped in public, a male pedestrian proved her point by heckling Teale while in the middle of her spiel.
"Yeah, like that," Teale reacted on camera, momentarily losing the tone of her report while she indicated the unknown man, raising her eyebrows and spreading her hands to show just how relevant her report was in lieu of the circumstances.
BBC's editing team blurred the man's face and bleeped the words he uttered before airing Teale's segment. The man, who appeared to be a white male between 20 to 30 years old, was wearing a flesh-colored hoodie and black pants, with a sling bag across his shoulders.
Teale later said she realized the irony of the moment after she became a target of the very same subject she was reporting on from a person she didn't even know. She further admitted to being shocked by the obscenities the man shouted at her.
"It's not banter, it's not funny and no one should have to put up with it," Teale said. She also posted about the incident on her Twitter feed, detailing her experience during the incident.
After her segment aired, viewers took to social media and posted messages supporting her, calling the man "shameful," and a "moronic…sad pathetic creep," while others believed the video was staged, or the passerby was going with the trend and attempting to be funny.
However, Teale responded by saying that while she found it gratifying the incident had spawned discussion about the reality of sexual harassment, she said insisted it was real, as can be judged from her reaction on camera.