Holmes Forgets Broadway Lines: Actress Admits Horrifying Mistake in 'Dead Accounts' (VIDEO)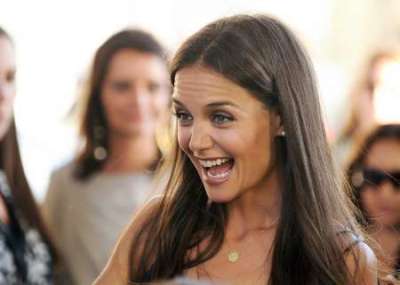 Katie Holmes forgot her Broadway lines as she was set to deliver a central speech in her Broadway play "Dead Accounts."
The 34 year old actress has admitted to the embarrassing mistake as she was interviewed by David Letterman on The Late Show.
Holmes explained how she froze on stage as she delivered the speech in the second act of "Dead Accounts."
"I said the first line, and I'm looking at Judy Greer, and I'm supposed to be angry at her, and then the second line I didn't remember. And I didn't remember the third one... I just looked at [Greer] like, Ah!" she explained to Letterman. As she did so she reenacted her face of horror as she forgot her lines.
Holmes explained how she ad-libbed her way through the monologue to get through, but she admitted it " felt like a good hour" before she could get back in the swing of things.
Meanwhile, ex-husband Tom Cruise will be with their six year old daughter Suri for Christmas this year, the actor has confirmed. Cruise has revealed that he plans to spend the holidays with her along with his two older children from his marriage to Nicole Kidman; Connor, 17, and Bella, 20.
Six year old Suri also spent Thanksgiving with her father, however, it seems that holidays with her father was a big part of the custody settlement with ex-wife Katie Holmes, with whom Suri stays with on a more regular long-term basis over school time.
Cruise explained about his holiday plans as he spoke to reporters during his first red carpet appearance since his divorce from Holmes, 33, earlier this year. He was in London recently for the premiere of his new crime movie, "Jack Reacher."
The actor told People magazine, "We have got lots of very special things planned. We are all going to be together. I am looking forward to it."
Cruise was wearing jeans and a dark suede blazer for the premiere as he gave the interview in front of adoring fans in central London.
Earlier this year Cruise also gave an interview to People, explaining how his family love to have Suri around and how they all play together. He said in June, "My older children are around, and my nieces, nephews, my sisters and their families. They all love Suri."
He highlighted Scrabble and Yahtzee as some board games that are favorites around the house, as well as "running around the yard kicking soccer balls."
Suri had joined Cruise in London for Thanksgiving, where he was situated for a lot of this year filming his new film "All You Need Is Kill." At that time he had not seen his daughter for three months, although they are said to be regularly speaking on the phone and through video chat online.
Meanwhile, Katie Holmes has a busy Christmas period planned herself. She appeared at the 12-12-12 Concert for Sandy Relief at Madison Square Garden recently alongside a host of music stars, actors and comedians.
Performances were given by Bruce Springsteen, Paul McCartney, the Rolling Stones, the Who, Bon Jovi, Eric Clapton, Dave Grohl, Billy Joel, Alicia Keys, Chris Martin, Eddie Vedder, Roger Waters, and Kanye West among many others.
Others attending the event included: Billy Crystal, Jon Stewart, Leonardo DiCaprio, Kristen Stewart, Chris Rock, Susan Sarandon, Adam Sandler, Jake Gyllenhaal, Jimmy Fallon, Steve Buscemi, Quentin Tarantino, Seth Meyers, and Season Combs.
Meanwhile, Holmes will also be appearing on Broadway throughout the holiday season for "Dead Accounts," which is scheduled to run until Feb. 24.