How I Met Your Mother Season 9 Spoilers: Episode 1 a Week Away, William Zabka Cast Rumors (Premiere Air Date September 23, Promo Trailer Video)
How I Met Your Mother Season 9 premiere is just around the corner and in the latest spoiler news more guest stars seem to be being named to appear on the hit series' finale season.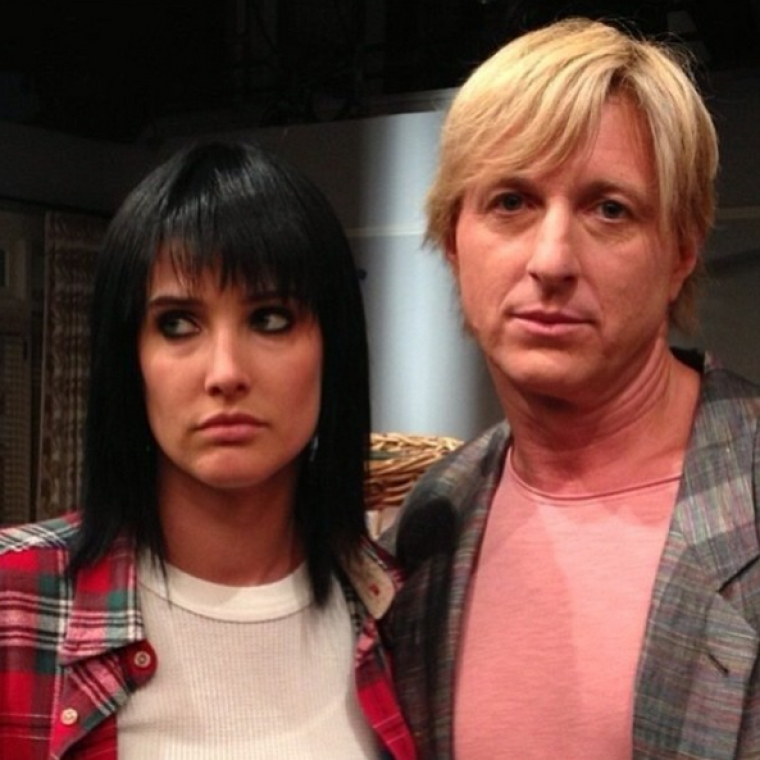 The latest rumors have linked "Karate Kid" star William Zabka to the hit CBS series. Zabka is of course the "villain" from "The Karate Kid," and he made an appearance in season 8 of "How I Met Your Mother" at Barney's bachelor party.
In new rumors ahead of the season 9 premiere, Now Entertainment Weekly is reporting that Zabka will appear as himself in "at least" eight episodes in the finale season.
Apparently the William Zabka guest star news was supposed to be kept top secret by creators Carter Bays and Craig Thomas, however, Cobie Smulders, who plays Robin, let the news slip.
On Sept. 13, Smulders tweeted an photo asking the following question: "Would you buy this bands album?" The photo posted shows Zabka with Smulders, who is dressed up as Robin Daggers.
In other spoiler news, rumors are circulating that Robin Sparkles will make a final dramatic appearance in the final season of the show. Actress, Smulders even told IGN that she thinks Robin's teen alter-ego should come back, although she admitted that she wasn't certain how she should come back, but only that she should make a final appearance in "some way."
She suggested maybe she could make an appearance to sing a "song to the groom at the wedding."
Other rumors to come out about How I Met Your Mother Season 9 in recent weeks has been that "True Blood" star Anna Camp will join the cast as a special guest in one of the season's new episodes. Some rumors claim that she will get between Ted and the mother, played by Cristin Miliot.
Earlier this year in July, it was reported that "Office" actress Ellie Kemper had been lined up to guest star in the series finale of the hit sit-com.
Kemper was reported to have been down to play Carrie, a guest at Barney and Robin's wedding. She was described as being "one of the most attractive, available, and – as Ted discovers – unfortunate guests."
However, it has since been reported that Kemper was forced to pull out of the appearance due to a scheduling conflict. According to TV Line, Kemper will be unable to appear, however, that doesn't mean that her character's part will disappear.
Instead Kemper will be replaced by another actress, with "True Blood" star Anna Camp set to gain the role.
Rumor news has claimed that the character of Cassie will be someone who gets in between Ted and Cristin Milioti's mother character during Season 9.
However, the interference in Ted and the mother's relationship should be just a small blip as Cassie will reportedly only be cast in one episode.
In other recent How I Met Your Mother Season 9 news, it has been reported that "Revenge" actor Roger Bart will also be making an appearance in the climax season to the hugely popular series.
According to reports, Bart will play an employee at a hotel in Farhampton, which is where Barney and Robin are scheduled to hold their wedding ceremony.
Bart, well-known for appearances in "Desperate Housewives," "Law & Order: SVU" and "Political Animal," should be a popular guest appearance on the show, but it is unknown at this time how many episodes the actor is set to appear in.
The entire final season will be focused and built around a non-linear storytelling of the couple's honeymoon weekend, and it has been rumored that in the premiere episode of Season 9, viewers will be able to see Robin having terrible wedding jitters. Some have suggested this will lead to Robin becoming a runaway bride – at least for a portion of the show.
Ted meanwhile is said to be preparing for a major job interview, but will ditch that to comfort Robin in her time of need. Meanwhile, Barney instead of being there to sort things out, goes to play laser tag with Robin's dad.
That incident will spark Robin to question whether she really wants to be with Barney, and once again the triangle with Ted will become an issue of debate.
Spoilers have said that Ted will be the last person to meet his future wife, but many are looking forward to how Robin will meet up with Ted's eventual wife, Cristin Milioti's character.
Some spoilers suggest that Barney will be the first to meet her, and will be a reversal of the way that Ted was with Barney the first time he saw Robin.
Star of the hit show, Josh Radnor, spoke with E! Online at this year's Comic-Con, and spoke more about the chemistry with the "mother" of his kids, who is as yet still unnamed, but will be played by Cristin Millioti.
Radnor said, "She came and read and it was like 'Oh, yeah, that seems like my wife.' Ted has been through so much and I like that he lands on his feet and lands with such a great girl."
How I Met Your Mother Season 9 is scheduled to have a premiere date on September 23.