Invisible Children: Kony 2012 Campaigns to End Violence Against Children
Yet another trend has spread across Twitter, gaining mass Internet attention. This new trend however, could save thousands of lives. After Rush Limbaugh threw his support behind the Lord's Resistance army, social media networks caught fire with the trend "Stop Kony."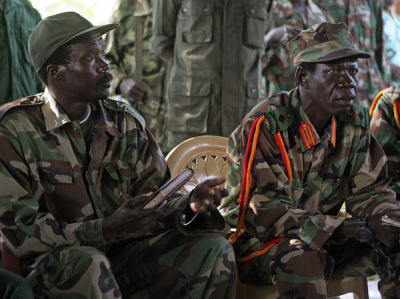 In his most recent rant, radio show host Rush Limbaugh vocalized his support for Joseph Kony and the Lord's Resistance Army (LRA). However, Kony has been indicted by the International Criminals Court with charges that include, murder, torture, child enslavement, rape, mutilation, and abduction.
Since 1987, Kony has abducted children and forced them to become members of his terrorist group. Young boys are made into soldiers, forced to kill their parents and then mutilate and kill others. Young girls are forced to be sex slaves.
Although Kony has promised to fight for peace multiple times, he has instead used false promises to regain power and then returned to his terrorist ways, causing havoc throughout East Africa.
Invisible Children is an organization that has dedicated itself to bringing awareness to Kony's actions. The film campaign titled KONY 2012 was launched by the organization to "raise support for his arrest and set a precedent for international justice."
"The dream would be for Kony to be captured, not killed, and brought to the International Criminal Court to face trial," filmmaker Jason Russell stated. "The world would know about his crimes and they would watch the trial play out on an international level, seeing a man face justice who got away with abducting children, raping little girls, and mutilating people's faces for 26 years."
In October, President Obama ordered the deployment of several Special Forces in Uganda, South Sudan, CAR and other African nations to coordinate the capture of Kony and his top officials. Increased efforts to promote the documentary and spread Kony's name have begun in order to keep military support in Africa.
So far the film has received nearly two million views YouTube and has been shared nearly four million times on Facebook. "KONY" has also become multiple different trends on Twitter. The organization has named April 20, 2012 as a day for global action.