Jailed Vietnamese Pastor Punished Further After Telling U.S. Diplomats About Abuses Inflicted on Him By Prison Authorities
Jailed Vietnamese Pastor Punished Further After Telling U.S. Diplomats About Abuses Inflicted on Him By Prison Authorities
An evangelical pastor already languishing in a prison in Vietnam was dealt more punishment by prison authorities after he revealed to a visiting U.S. diplomatic delegation about the abuses he had been subjected to.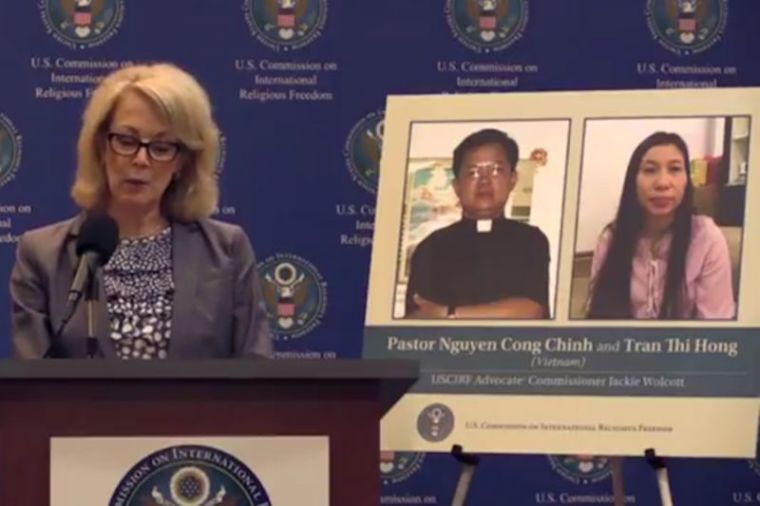 Pastor Nguyen Cong Chinh, who is serving an 11-year sentence for "undermining national solidarity," met U.S. consular officials in Ho Chi Minh City on May 25, UCANews reported.
Prior to the meeting, prison officials warned the pastor not to tell the American visitors anything that would make them look bad, his wife Tran Thi Hong told the Catholic news outlet last week.
However, her husband refused to be cowed into submission.
"Chinh could not obey their order," Hong said. "He told the delegation his experiences of torture, threats and mistreatment that he has endured over six years."
The pastor has been kept in three prisons since he was arrested in 2011 for his evangelization work on ethnic groups in the country's Central Highlands, she said.
Chinh told the U.S. consulate officials that prison authorities had subjected him to barbaric punishments like beatings, putting him in stocks and solitary confinement. They even put shards of glass into his food and humiliated him, he revealed.
Hong said her husband is continually being punished for refusing to do what prison officials wanted him to do, which is to admit his alleged crimes—something the pastor refuses to do because he believes he has committed no crime.
After learning what Chinh had told the American visitors, the prison officials reportedly locked up the pastor in a cramped cell isolated from other inmates.
Hong said her husband is already suffering from poor health, including severe sinusitis and high blood pressure. She is worried her husband's health might further deteriorate as a result of his solitary confinement.
Hong, a mother of four, said she also experienced being grilled and tortured by the police in March last year after she met with a U.S. delegation on religious freedom in Pleiku city.
She also accused Vietnamese government officials of trying to sow discord between her and her husband with the intent to break up their family by maliciously telling her husband that his wife had been unfaithful to him and seeing another man, The Christian Post previously reported.
"I was shocked when my husband said on May 11 that public security officials from Hanoi came to the camp and told him that I had been unfaithful," Hong said. "The officials asked him 'don't you know anything about your wife?' and said 'she is committing adultery with a man.'"
Hong said what the security officials told her husband was nothing but lies.