Joy Duggar of 'Counting On' Celebrates One-Month Wedding Anniversary in Israel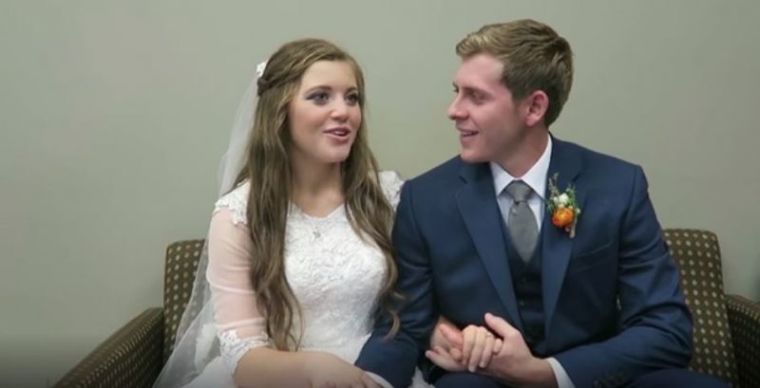 "Counting On" stars Joy Duggar and Austin Forsyth got married over Memorial Day weekend, and though more than a month had already passed since they tied the knot in Arkansas, the couple are still not done with their honeymoon vacation.
On a blog post on the Duggar Family Blog on Tuesday, June 27, it was reported that the 19-year-old Joy and 23-year-old Austin had recently spent their one-month anniversary as a married couple in Israel. The update featured a photo of Austin and his wife standing next to each other against the backdrop of the Sea of Galilee at sunset.
However, some fans of the reality stars noticed that Joy was not wearing her wedding ring, which led to speculations on what could the lack of a ring on her finger mean.
Other people, however, were quick to come to the reality star's defense, with some saying that she could just be safekeeping her ring to prevent it from getting lost while the couple are enjoying their time on vacation. Another commenter said that the newlywed may not be used to constantly wearing a ring on her finger just yet.
After their wedding, the happy couple initially spent their honeymoon in Switzerland during which they whiled away their first days of marriage by sightseeing and going on many adventures.
"We are so excited to just be taking this trip as newlyweds," Joy said in a video recorded by TLC during their honeymoon vacation in Switzerland. "We chose Switzerland because we knew that it was very beautiful. We had seen a lot of pictures and Austin's really wanted to come here for awhile."
"I think I'll always remember this being our first trip out of the country together and it will just have special memories," Austin shared.
Austin and Joy's wedding aired on the season 2C premiere of "Counting On" last June 12 on TLC. As for what future lies ahead for the newly-wedded couple, they are reportedly planning to build their own home to kick-start their married life.