Justin Bieber Cancels Concert: New Blow for Teen Star After 'Rough Week' (VIDEO)
Canadian pop star Justin Bieber has canceled a concert that was set to take place next week, disappointing thousands of fans who were hoping to catch the Canadian crooner live.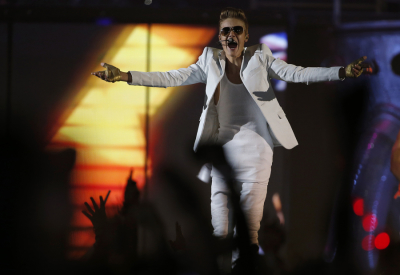 The canceled concert is Tuesday's gig in Lisbon, Portugal, and the announcement comes after Bieber concluded a difficult week in London in which he admitted things had been rough.
The pop star has been in London throughout the week for a series of gigs at the O2 arena in east London, however, not everything has gone to plan and a number of controversial reports have engulfed the star over his visit.
The week started off badly when Bieber angered thousands of his fans on Monday when he reportedly turned up nearly two hours late on stage for his concert.
That incident was followed a few days later by a health scare when Bieber was said to have had trouble breathing on stage, with some reports even stating that the singer collapsed on stage. Bieber had to be given medical attention off stage, before returning to complete his gig to the delight of his fans. He later visited a hospital to get a thorough check up.
But the rough week was not over; he also was reported to be acting in a "peculiar" way with some eye-witnesses claiming to have seen him jumping between cars near the O2 arena after one of his concerts.
In another incident during the week he was also involved in a angry confrontation with a photographer, with a foul mouthed exchange taking place between the pair.
Music promoters , "Everything is New," has released a statement on its website explaining that Bieber had canceled his Tuesday Lisbon ogg "due to unforeseen circumstances."
However, the note did also confirm that the pop star was still keen to complete his concert scheduled for Monday.
In another twist, one Portuguese newspaper has suggested that although the first date on Monday had been sold out, the Tuesday concert had an insufficient sale of tickets and that is the real reason the Tuesday concert had been canceled.
Here is video footage of Justin Bieber's O2 concert this week where he suffered breathing difficulties and required medical attention: