Kate Middleton and Prince William Choose Baby Names?
Catherine (Kate) Middleton and Prince William, the Duchess and Duke of Cambridge, have reportedly begun selecting baby names less than one week after baby bump rumors began swirling.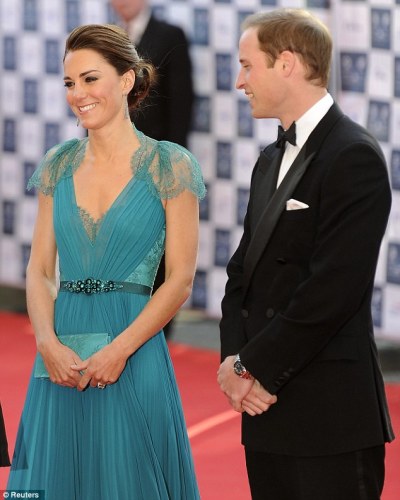 While it has still not been confirmed whether Middleton is pregnant with her first child, new reports about the pair selecting names for a baby girl have fueled speculation that she is, according to Now UK.
"If it's a girl her middle names will be Elizabeth after Will's grandmother and Diana after his mother," a source told the UK publication.
Queen Elizabeth has reportedly been pressuring Will, 29, and Kate, 30, to have an heir after being married for over one year.
"The Queen's told Kate to make starting a family a priority. She's also told William not to let Royal duties get in the way of a family and his happiness," the source explained.
Middleton was reportedly spotted with what onlookers described as a "baby bump," while shopping in west London during the Diamond Jubilee celebrations.
In a recent interview with renowned journalist Kate Couric, Will refused to confirm whether his wife is pregnant with the couple's first child.
"You won't get anything out of me. Tight lipped," Prince William said. "I'm just very keen to have a family and both Catherine and I, you know, are looking forward to having a family in the future."
The couple, who has been together for over 10 years, wed in a high-profile wedding ceremony on April 29, 2011 at Westminster Abbey and Will admitted that the pressure to have children was growing.
"I'm still trying to decide. It's a really difficult one because I really enjoy my time in the Air Force and I'd love to continue it but the pressures of my other life are building. And fighting them off, or balancing the two of them, has proven quite difficult," Prince William said.
"More importantly, I'd rather like to have children. So that's the key thing really," he added.
Kate Middleton Pregnant? (VIDEO)