Kim Kardashian, Kanye West 'Fat' Photo Goes Viral (PHOTO)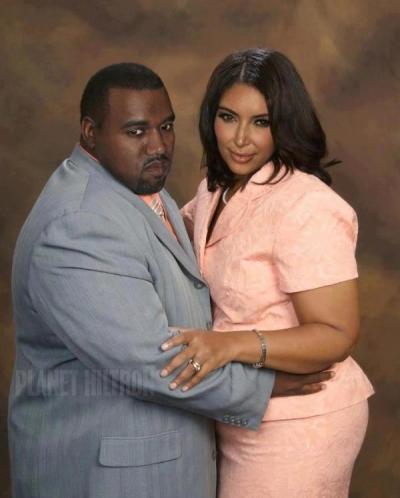 Fans of Kim Kardashian and Kanye West were left stunned after an unusual photograph of the couple went viral on social networking site Twitter.
The reality stars appear to be overweight and almost unrecognizable in the photo. Although at first glance many fans were deceived into believing that the unflattering photo was real, eventually most discovered that it was evidently Photoshopped but still went on to label the picture "hilarious."
"Kim Kardashian And Kanye West As Fat People! LMAO!" Jane Johnson
"A hilarious Instagram pic of Kanye West and Kim Kardashian as fat people," Milah tweeted.
"This picture killed it..Imagine Kanye West&Kim Kardashian 15years from Now..all fat and ish," someone with the username Creme De La Creme tweeted.
"This is what Kanye & Kim K. would look like if they were a fat, married couple," a user known as ego trip tweeted.
Some twitter users associated the "fat" photo with Kardashian's love for soul food. The reality TV personality recently uploaded a photograph of the African-American cuisine, which is renowned for its high calories.
"Cooking some soul food for my baby! Luxury chef… the Hermes of soul food," Kardashian tweeted.
New reports suggest that West, 34, and Kardashian, 31, are now considering marriage just two months in to their relationship.
"Would she marry him? Absolutely! She wouldn't even think twice," a friend of Kardashian's told Life and Style Magazine.
The pair began dating shortly after Kardashian abruptly filed for divorce from NBA star Kris Humphries in August and although critics fear that she is moving too quickly, her family is said to be thrilled about her new romance.
"Kris [Jenner] is thrilled about Kim's new romance with Kanye. She loves that they're together and thinks Kanye is a huge step up for Kim after her marriage to Kris Humphries," a source told Radaronline.com.
"Dating Kanye puts Kim in a whole new stratosphere. Kris was just a basketball player making a few million dollars a year, but Kanye is a world-wide multi-millionaire superstar. His money and fame are all going to benefit Kim now and she's going to have all the perks of being his girlfriend, and her mom thinks this is going to be great for her own career," the insider added.
Kim Kardashian's Secret Plan to Have Kanye's Baby