Kim Kardashian Talks North West Peeing on Kanye During Vogue Shoot; 'It's A Good Memory' (VIDEO)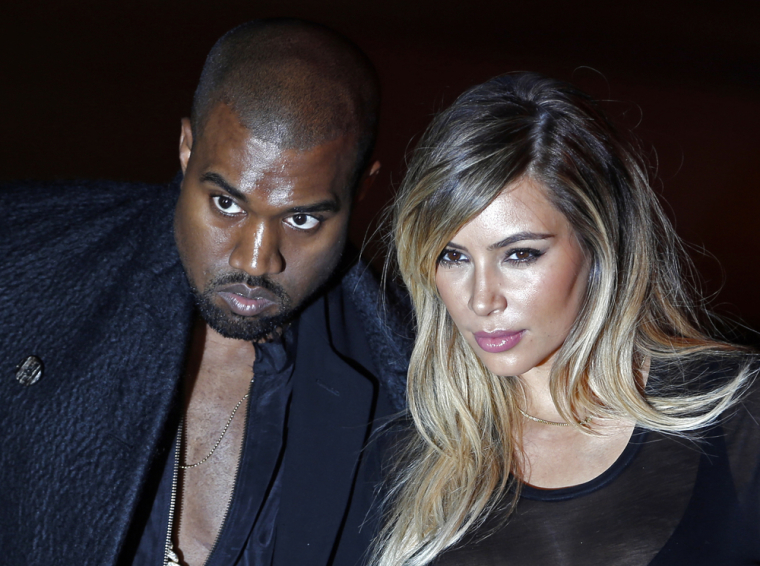 Kim Kardashian and Kanye West's first ever Vogue cover shoot may have been a dream come true, however, a moment of urination by baby North proved that while the photos appear glamorous, not everything ran smoothly.
TO SEE PHOTOS FROM KARDASHIAN'S VOGUE SHOOT CLICK HERE
The Hollywood power couple reportedly posed for the shoot in late January over a two-day period and 9-month-old North, whose nickname is Nori, also took part. At one point the trio posed for a family shot and West, 36, is seen clutching his nude daughter.
"North peed on [Kanye] right at that moment," Kardashian said of the shoot during a recent appearance on "Late Night with Seth Meyers."
"He was trying to tell me. I had to get up and clean him off ... It's a good memory," she explained.
On the April cover of the leading fashion publication, Kardashian, 33, appears standing in front of West dressed in an off-white wedding gown. The "New Slaves" rapper appears clutching his fiancee from behind while dressed in all black.
The cover was shot by famed photographer Annie Leibovitz and while it has garnered backlash, Kardashian is thrilled with the end result.
"I knew [the photo shoot] was happening of course but I didn't know it would be the cover," Kardashian said.
"Kanye's the first rapper to be on, I'm the first reality star to be on, and we're the first interracial couple [to be on the cover of Vogue]," the proud reality star continued. "It's the biggest dream come true and I'm so honored and to have Anna Wintour pick us … I'm just so honored."
Vogue Editor-In-Chief Anna Wintour is renowned for selecting iconic Hollywood stars such as Beyonce Knowles to cover the fashion publication, as well as Olympic athletes and even highly respected political figures like First Lady Michelle Obama. Critics have openly questioned whether Kardashian, who rose to stardom in 2007 following the release of her erotic tape, is worthy of a Vogue cover.
By landing her first cover of the leading fashion publication, Kardashian transitioned from reality TV star to pop cultural icon, which pleased fans but outraged haters.
"Well……I guess I'm canceling my Vogue subscription. Who is with me???" Actress Sarah Michelle Gellar tweeted Friday.
Supermodel Naomi Campbell, who has covered Vogue magazine several times, laughed when asked about the controversy surrounding Kardashian and West and alluded to her disapproval.
Wintour, 64, publicly defended her decision to put the Hollywood power couple on the cover.
"There's barely a strand of the modern media that the Kardashian Wests haven't been able to master, and for good reason," Wintour said in a statement obtained by Daily Mail U.K.
"Kanye is an amazing performer and cultural provocateur, while Kim, through her strength of character, has created a place for herself in the glare of the world's spotlight, and it takes real guts to do that," she added.