'Kong: Skull Island' Release Date, News: Film Creates Connections Everywhere
The year 2017 is shaping up to be a time for monster movies of epic proportions, and "Kong: Skull Island" is making itself felt in every single way. As such, it looks like it is creating connections everywhere to make sure everyone recognizes the king is coming.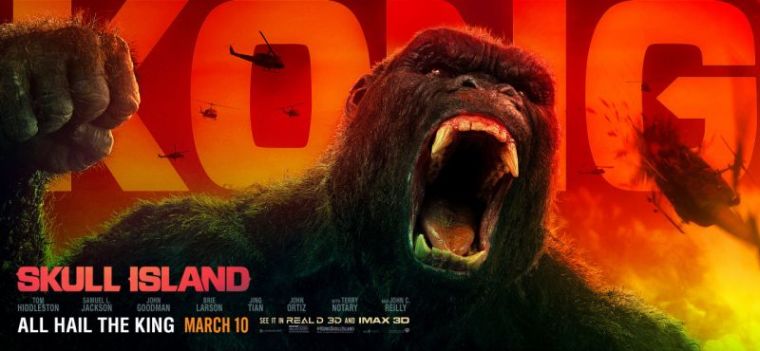 It can be recalled that Warner Bros. is reviving the Monster Universe, and the film is creating the first connection with yet another behemoth, Godzilla. Cinema Blend has put the pieces together, with the scientific organization Monarch being present in both monster films, and is something producer Alex Garcia confirmed in an interview.
"It's a landslide expedition, officially, but John Goodman, who plays the guy from Monarch, is sort of pulling the strings in the background and we come to realize obviously that they knew much more than they let on initially," Garcia explained.
Aside from a fellow monster, it looks like "Kong: Skull Island" is also pulling a reference to yet another legendary film. In the latest IMAX exclusive poster, the artwork was somehow evoking a certain vibe that was too difficult not to notice.
Entertainment Weekly has certainly seen the resemblance, or more appropriately the influence of Francis Ford Coppola's "Apocalypse Now" to Kong's newly released poster. Aside from that, there could even be a connection between John C. Reilly's role with that of Dennis Hopper's, where the former is the jollier side of the latter. Given the prevalent political climate in the United States, it looks like another connection to current events is at hand. In an Instagram post, Brie Larson says that she dedicates her role as Mason Weaver to journalists who are being labeled as the opposition by the incumbent president.
"I make movies as a form of activism. I believe we learn from what we see in our leaders. I'm proud to play Mason Weaver in @kongskullislandmovie because she represents the many journalists who risk their lives everyday to share with us the truth," she captions her photo.
If one is looking for subtle references, this film is far from short of it. "Kong: Skull Island" arrives in cinemas on March 10, 2017.