Kristen Stewart, Rob Pattinson Happy In First TV Interview Since Cheating Scandal
Kristen Stewart, Rob Pattinson Happy In First TV Interview Since Cheating Scandal
Rob Pattinson and Kristen Stewart have sat down for their first TV interview since being faced with the actress' infamous affair scandal, and the pair appeared to be in good spirits and showed little sign of having a strained relationship.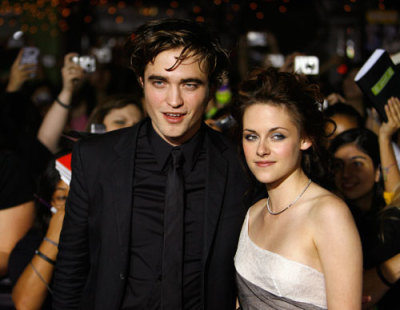 The on-and-off couple was joined by their co-star Taylor Lautner as they promoted "Breaking Dawn: Part 2" on MTV and although the interview topics were limited Stewart, 22, and Pattinson, 26, opened up about a halloween party which they had attended together on Wednesday. Stewart's costume was ironically in honor of "Closer," a movie about relationships and infidelity.
"Oh yes, it looks awesome. That's not fair. That's actually a really weird [photo]," Stewart told MTV News while observing a photograph of her costume which featured a pink wig and sunglasses.
"If you've seen [Closer], that's one aspect of [Portman's] character. She changes a lot in that movie, but that's one part, yeah," she explained.
Pattinson, who has reportedly forgiven Stewart for having a secret tryst with married film director Rupert Sanders, was pictured wearing a scary mask alongside Stewart and joked about whether or not he was the man behind the mask.
"That's not me! I chose someone who is just genuinely terrifying. It was a $3 mask from a 7-Eleven," he said.
The pair, who play Bella Swan and Edward Cullen in the popular "Twilight" franchise, also went on to discuss certain scenes in the film. Stewart appeared to be relaxed throughout the interview and Pattinson joked his way through it, fueling reports that they have reconciled.
In July the actress was photographed kissing Sanders, 42, and admitted to cheating on Pattinson, her boyfriend of three years. Although he was understandably devastated by her admission, they were recently photographed at Stewart's new Los Feliz mansion and on Wednesday they were seen hand-in-hand at the halloween event.
"Kristen is working hard to try and force the relationship into what it was before. But the truth is, she's going to have to take it slowly with Robert because he's still having trouble trusting her again," a source reportedly told Radar Online.
"For him to carry on like nothing happened is very hard. Kristen is eternally sorry for cheating on him and he has forgiven her -- kind of. The problem is he can't forget her infidelity. Kristen claims that she never actually slept with Rupert Sanders, but Robert still has that nagging feeling of doubt that she did," the source went on.
Robert Pattinson & Kristen Stewart Back Together?