'Law & Order: SVU' Season 16: Episode 18 Recap 'Devastating Story'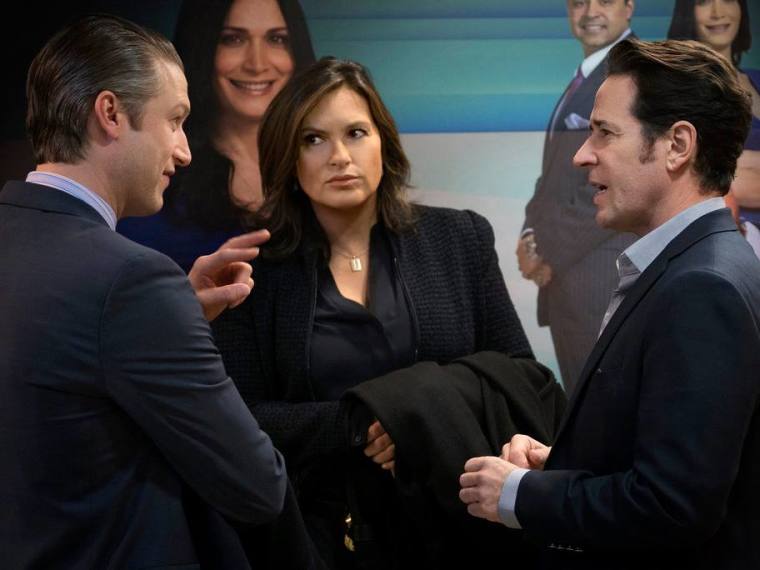 This week on "Law & Order: SVU," the show rips another story from the headlines which is based on a campus rape case which was covered by Rolling Stone. In "Devastating Story," Olivia, Rollins, and Carisi will investigate the story of a college student who claims that she was gang raped at a frat party.
Olivia is watching a real crime TV show detailing how a young woman, who calls herself Jane, was raped at an NYC campus. Rollins and Carisi go over to talk to the show host, Skip, to know the girl's true identity, but he refuses to do so. He tells them to go to Professor Dillon on campus.
Meanwhile, Olivia talks to the college president, but the woman tells her that Jane only slept with one boy and that she was drunk when it happened. A protest starts on campus, and when Olivia and Carisi go to check it out, there stands Jane, whose real name is Heather Manning, and she's right in front of the protest. They ask her to come with them to the police station.
Heather tells them that the boys threw beer cans at her and called her names. She names Connor, Lance, and Zach as some of the guys who raped her. Fin, Rollins and Carisi go to the frat house to investigate, and the boys insist that no such thing happened and her date says that they did sleep together, but it was consensual. Olivia points out the video that someone uploaded of them throwing cans at Heather, and they say that it's the gauntlet and they always do that sort of thing.
Skip is going on talk shows and telling everyone that three of the rapists have been arrested. He shows Heather at a press conference and she's talking about how six men raped her. Skip says that there's video of the assault and her DNA on hockey sticks which the men used to beat her up.
Olivia brings in Heather and Professor Dillon. Olivia says that Heather has to stop going on talk shows, and Carisi tells her that she's hurting her own case. Heather says that she has appearances on Anderson Cooper and Rachel Maddow and she can't stop now.
Later, they talk to Skip and the host says that he only talked to Dillon and Heather. Skip says Heather's story checked out but he says that he has to work on a retraction.
It turns out that out of all that she accused of raping her, only Connor actually raped Heather. But because Dillon screwed the facts, the charges against all six had to be dropped, including Connor, and he gets away.
"They thought this would be the case to change rape culture, and it did," said Olivia. "It set the clock back 30 years."
"Law & Order: SVU" airs on Wednesdays at 9 p.m. on NBC.