LeBron Fan Wins $75,000 After Making Incredible Half-Court Shot (VIDEO)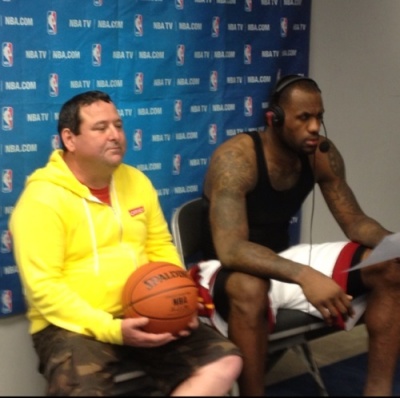 A 50-year-old computer technician wowed a stadium of 20,000 basketball fans after successfully shooting a hook shot from half-court during Fridays Miami Heat VS the Detroit Pistons and winning $75,000.
Michael Drysch's skillful one-handed shot splashed through the hoop, much to the delight of the Heats' three-time MVP LeBron James. The Power forward broke away from his team huddle to tackle-hug Drysch, who is a die-hard James fan, while offering his congratulations, according to ESPN.
"That was awesome, man," James said. "I was excited for him. When he wound up like that, I was like, 'Oh no, there's no way.' And then when I saw it in the air, I was like, 'Oh, that's got a chance.' I was happy to be a part of that."
Drysch's $75,000 winnings came from the LeBron James Family Foundation, which reportedly flew Drysch to Miami from Illinois after he was selected from a raffle drawing.
"It's a great way to meet somebody like that," Drysch, who was presented with an oversized check, told reporters. "I had no idea he was coming over to me like that. That was amazing. What a great feeling to experience something like this."
Drysch had allegedly practiced the unbelievable shot over the space of two days although he previously had difficulty making it. A friend offered him advice during his final practice at the American Airlines Arena.
"They told me to put some spin on the ball, and get it up there as high as I could," Drysch said. "I had made that shot something like 1 percent of the time in my life."
The Heat won 110-88 over the Pistons with the team's guard Dwyane Wade scoring a team-high 29 points but even he was in awe of Drysch's shot.
"That was an unbelievable shot," Wade said. "We might need to sign him and bring him back for late-game situations."