LG G5 Rumors: New Smartphone to Get Snapdragon 820 Processor and 20MP Camera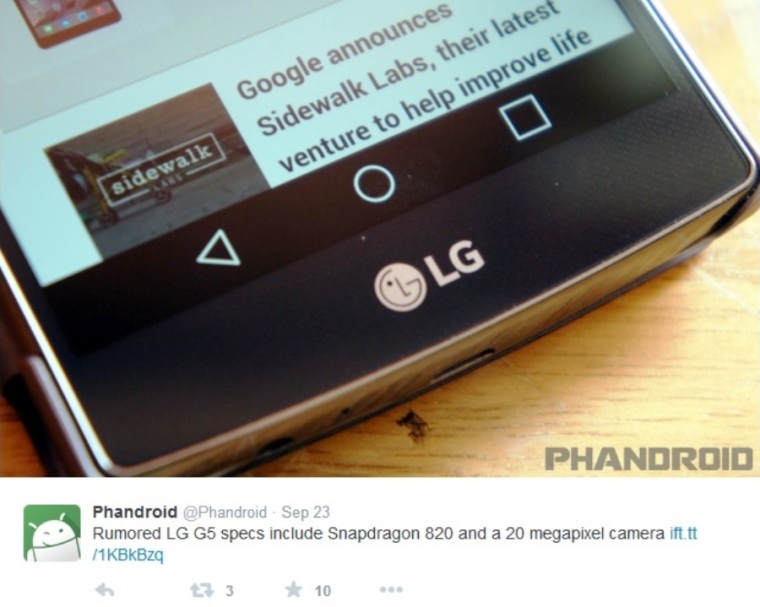 Rumors have emerged LG is gearing up to launch a new smartphone, the LG G5, featuring a Snapdragon 820 SoC and a 20MP camera sensor.
With the LG G4 already five months old in the market, South Korean smartphone manufacturer LG is reportedly developing the LG G5, a next-gen handset that's rumored to be launched in Q4 2015.
The new smartphone is also rumored to be accompanied by another phone wit a much larger display, the LG G5 Pro, and both will be equipped with the upcoming 1.8 GHz hexacore Snapdragon 820 chipset, and a 20MP main camera.
The LG G5 will come with a 5.6-inch flexible display with True HD IPS and a 4K resolution protected by Corning Gorilla Glass over 3GB of RAM, and storage capacity options of 32GB, 64GB, and 128GB.
It is also expected to have a 10MP front camera with an Iris Eye Recognition scanner for increased security, a 4,000mAh battery, and 4G LTE, NFC, GPS, Wi-Fi, and Bluetooth support.
Speculated to be a high-performance handset, its slim and flexible design will feature a curved surface, with an HD display capable of high picture quality. With the ability to play and record 4K videos, it will also enable users to run high-end games.
The phone is also reported to have improved Touch ID technology, and will come with multiple sensors for proximity, gravity, and pro-light, as well as face, smile, and multi-gesture detection.
While there has been no news on when the LG G5 will be unveiled, it is rumored that a December 15 release date is already on LG's schedule to give users the opportunity to purchase the new handset in time for the holidays.
With a release date on hand, it may be speculated the LG G5 will be officially introduced either during late November or the first week of December with a reported $900 price tag.