Limbaugh Warns Obama's 'Best Revenge' Comment Shows True Character
Limbaugh Warns Obama's 'Best Revenge' Comment Shows True Character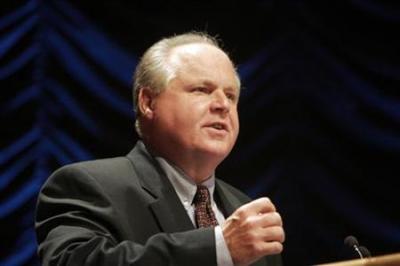 Popular radio talk show host Rush Limbaugh is once again voicing his discontent for President Obama a few days after the president hinted that voters should go to the polls for "revenge."
The comment was made during a campaign rally on Friday in Springfield, Oh., and quickly made the rounds on popular media outlets across the country. Conservatives warned that this is a precursor of what is to come in the next four years should Obama win re-election.
The president said that "voting is the best revenge." Democratic campaign managers soon attempted to clarify the comment after critics questioned Obama's terminology.
"The message [President Obama] was sending is if you don't like the policies, if you don't like the plan that Gov. Romney is putting forward, if you think that's a bad deal for the middle class, then you can go to the voting booth and cast your ballot," Jennifer Psaki, an Obama campaign spokeswoman, told reporters on Saturday as reported by Politico.
During his talk show on Monday, Limbaugh told listeners that Obama made the comments as he was speaking, not as he was reading from a teleprompter. The observation convinced the conservative pundit that these were the true feelings of a president who campaigned on hope and change.
"I told you that's what this guy is all about, and here he is now voicing it himself, off prompter, by the way. This was not written. The real Obama surfaced, and they're struggling trying to explain this," Limbaugh exclaimed during his radio show.
Limbaugh continued to tell listeners that the only reason a person should feel excited to vote would be to show their deep commitment to the civic responsibilities held by the populace and their devout love of their country.
"Love of country is exactly what propelled 2010. Love of country is exactly what caused a massive uprising by the Tea Party and the grassroots and a massive Democrat landslide defeat in 2010," Limbaugh said.
"Make no mistake about it, it was love of country that generated that, and it's love of country that has only intensified since then. It has not evaporated in any shape, way, manner, or form," said the radio host.
See, I Told You So - Obama Wants Revenge