'Liz to Aoitori' Latest News: Promotional Video Released for New 'Hibike! Euphonium' Anime Film; Miyu Honda, Shiori Sugiura Join Cast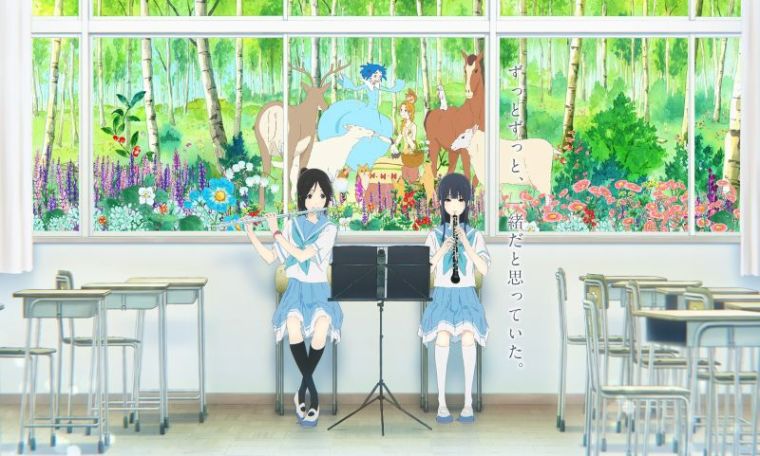 A new cast member has been announced for the upcoming "Hibike! Euphonium (Sound! Euphonium)" anime film titled "Liz to Aoitori (Liz and the Bluebird)."
Miyu Honda, a 13-year-old Japanese figure skater, will be taking on her first voice acting role as the two characters from the film's in-story fairy tale. Honda will be providing her voice to the titular character Liz, described as an orphan girl who lives alone by a lake. She will also be voicing the mysterious blue-haired girl who once saved Liz when she fell into the lake.
It has also been announced that the film's theme song titled "Songbirds" will be performed by Homecomings, a three-woman, one-man Japanese quartet from Kyoto.
Most of the main cast members from the "Hibike! Euphonium" anime series will reportedly be reprising their roles. The list of returning cast members includes Atsumi Tanezaki as the third-year oboist Mizore Yoroizuka, Nao Toyama as the third-year flutist Nozomi Kasaki, Konomi Fujimura as the third-year euphonist Natsuki Nakagawa, and Yuri Yamaoka as the third-year trumpeter Yuuko Yoshikawa.
Tomoyo Kurosawa will also be returning to reprise her role as the second year euphonist Kumiko Omae. Ayaka Asai will also still be voicing the second year tubist Hazuki Katou. Moe Toyota and Chika Anzai will still be the voices behind the second-year bassist Sapphire Kawashima and the second-year trumpeter Reina Kousaka, respectively.
Other returning cast members include Houko Kuwashima as Satomi Niiyama, Yuuichi Nakamura as Masahiro Hashimoto, and Takahiro Sakurai as Noboru Taki.
Shiori Sugiura will also be joining the cast as the new character Ririka Kenzaki, who is described as a first-year oboist. Ririka will try her best to be able to communicate with her fellow oboist and upperclassman, Mizore.
Naoko Yamada is directing the film based on scripts written by Reiko Yoshida. Futoshi Nishiya and Mutsuo Shinohara are both returning to serve as character designer and art director respectively. Kensuke Ushio is credited for music composition.
"Liz to Aoitori" will be released on Saturday, April 21, in Japanese theaters. It is the first of two planned films for the "Hibike! Euphonium" franchise, and will focus on the story of Mizore and Nozomi.