Michael Clarke Duncan Dead: Planned Secret Wedding to Omarosa
Michael Clarke Duncan, the Oscar-nominated actor who died Monday, was reportedly secretly engaged to Omarosa Manigault-Stallworth and the pair were preparing for their upcoming wedding.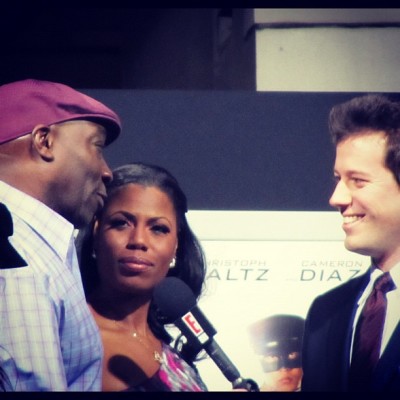 The couple, who had dated for two years, were planning to tie the knot in January and Manigault-Stallworth is understandably devastated by Duncan's untimely death, according to TMZ.com.
The "Green Mile" star died at age 54 while still in the hospital on Monday morning less than two months after her suffered a myocardial infarction.
Duncan was admitted to hospital on July 13 after going into cardiac arrest although he eventually began his recovery, which is when the actor began planning his January nuptials to Manigault-Stallworth.
Manigault-Stallworth, 38, reportedly saved his life after finding him unconscious in his home following the July 13 heart attack.
The former "The Apprentice" star called 911 and performed CPR on Duncan in an effort to resuscitate him- a quick thinking move which some say saved his life.
Duncan was quickly transported to a local hospital shortly after 2 a.m., where he was immediately admitted to the ICU. He had reportedly remained in hospital ever since.
Although Manigault-Stallworth had consistently been by Duncan's side throughout his recovery process, she had briefly stepped out of the hospital room early Monday, which is when he passed.
She reportedly met Duncan in the produce section of a Whole Foods grocery store in 2010.
Duncan, who once worked as a Hollywood bodyguard for celebrities including Will Smith and Notorious B.I.G, rose to stardom in 1999 for his breakout role as John Coffey in "The Green Mile."
The Academy Award nominee has since appeared in a string of films including "Planet of the Apes," "The Scorpion King," and "Daredevil."
The 6-foot-5-inch actor won praises from animal rights group PETA in 2009 when he publicly vowed to stop eating meat, claiming that vegetarianism was beneficial to his health and that the strict diet increased his strength.
In Memoriam: Michael Clarke Duncan Before Fame