Michael Phelps Olympics 2016 Comeback? Swimmer 'Fired Up' After Old Teammates' Loss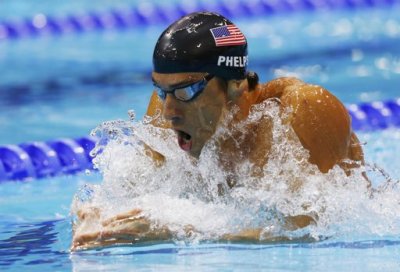 Michael Phelps Olympics career may not be over, as the gold medalist swimmer was for the first time uncharacteristically vague about his future in the sport. Though Phelps had said after the 2012 Games that he was definitely retired, on Monday he did not rule out a comeback for the 2016 Olympics.
Michael Phelps revealed the uncertainty surrounding his future as an Olympic swimmer while in Barcelona, Spain for the world swimming championships. After watching a frustrating second-place finish for the U.S. team in the 400-meter freestyle relay Sunday- the French men's team managed to edge out Phelps' old teammates- Phelps refused to definitely rule out swimming in 2016.
"I don't know what's going to happen in the future. I don't know what's going to happen tomorrow," the 28-year-old swimming champion told the Associated Press and other reporters. "I don't know. We're in 2013 … There's nothing in the works right now."
For Phelps to be in top shape for 2016, he would have to start training before the end of the year. That can't happen currently because of a minor injury- while hanging out with former swimming teammates Allison Schmitt and Conor Dwyer at his home, he stubbed his toe on the couch. The injury was aggravated by Phelps' participation in a golf tournament.
"He hit his foot somehow in the house and then he did that tournament when he walked about 20 miles and got a little stress fracture," Phelps' former coach, Bob Bowman, explained.
"Golf really is a dangerous sport," Phelps joked. "The good thing is, I only have to pack one shoe," he added, referring to the boot he wore to protect himself from further injury in Barcelona.
Phelps for now is enjoying the life of a retired Olympic superstar, and has swimming schools and a water safety foundation. He said he has "no plans to do anything," and enjoys being lazy, for now; sometimes he wakes up at noon, which is something that wasn't possible with a fierce training regimen.
Still, Phelps remains competitive, as evidenced by his disappointment at his old teammates being beaten by the French. It could be the passion to win that drives him back to a final showing in the Rio Olympics in 2016- he would be 31 by then.
"I was so fired up. We have enough guys on that team who can swim faster than that, and that was just frustrating for me to watch," he told AP.
"I could have definitely hopped up (to join the national team), but this is their time," Phelps told Yahoo! Sports.