Motorola DROID Turbo 2 and Maxx 2 News: Press Renders Leak Days Before Unveiling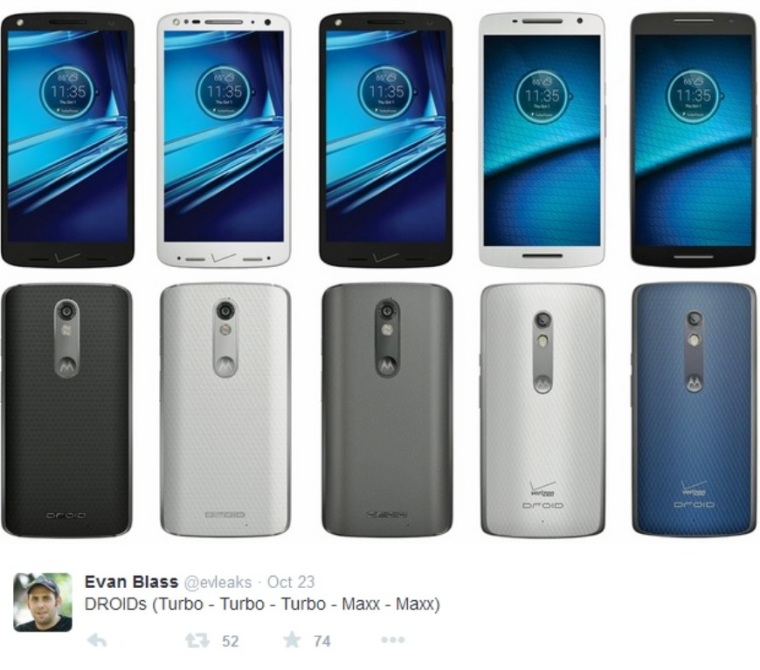 Press renders of two upcoming Motorola smartphones, the DROID Turbo 2 and DROID Maxx 2, leaked online less than a week before their scheduled unveiling as Verizon exclusives.
Motorola's DROID Turbo 2 and DROID Maxx 2 are expected to be officially introduced to the public today, but leaked images alleged to be press renders of the soon-to-be-released handsets circulated online as early as Friday last week.
The leaks were provided by notorious tech leakster, Evan Blass, who goes by the Twitter handle @evleaks, and he tweeted a host of color options available for both smartphones days before their official unveiling.
Based on the leaked renders, the DROID Turbo 2 and the DROID Maxx 2 appear similar in appearance, except for a few minor differences. Both handsets carry front-facing speakers, a camera module resting on a small metal strip at the rear of each phone, and Motorola's DROID brand at resting at the bottom center of the devices.
The DROID Turbo 2 is reportedly carrying a Snapdragon 810 processor underneath a 5.4-inch Quad HD display, which will be supported by 3GB of RAM, and two options of 32GB and 64GB of internal storage.
Apart from featuring what is touted to be "the world's first shatterproof display," the Turbo 2 will be sporting a 3,760mAh battery and support for Moto Maker.
On the other hand, the DROID Maxx 2 is said to have a 5.5-inch 1080 x 1920 resolution touchscreen over a Qualcomm Snapdragon 617 chipset and an octa-core 1.7GHz CPU. With 16GB of internal storage expandable up to 128GB via its microSD slot, the handset will reportedly feature a 21MP rear camera and a 5MP front shooter.
Talk has also emerged customers who purchase the DROID Maxx 2 on a Verizon contract will receive a two-year warranty on screen repairs from the date of purchase.
Both handsets will be officially unveiled on October 27, and be available exclusively on Verizon.