NBA Free Agents News 2015: Kevin Durant, Kawhi Leonard, Tobias Harris
NBA Free Agents News 2015: Kevin Durant, Kawhi Leonard, Tobias Harris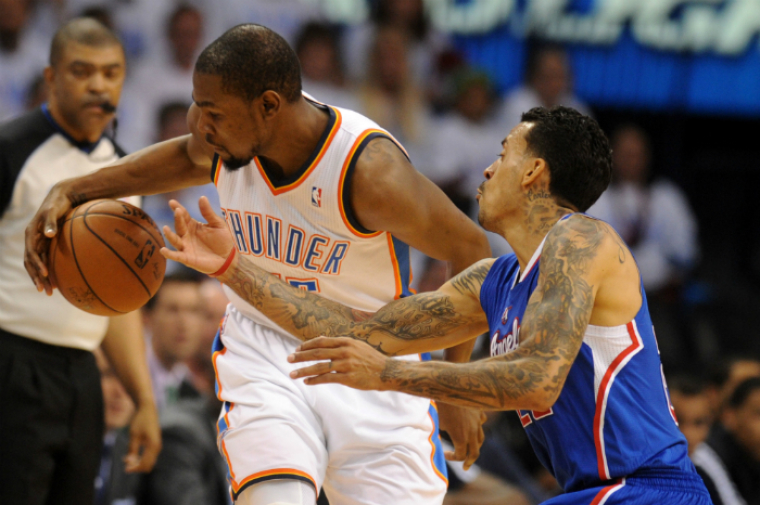 The NBA's free agency period is many months away, but rumors of transactions and players moving on are already appearing on the news, one of which is news of Kevin Durant's possible exit from the Thunder.
Scott Brooks himself admitted that the Thunder were experiencing a rough patch this season. However, with Durant's upcoming free agency in 2016 hanging in the background, troubled times may hit the Thunder as the months pass.
"I think he likes his teammates. That's always important," Brooks said. However, reports have it that Thunder officials know that there's no guarantee if they end up exiting the playoffs early and especially as they already drafted Dion Waiters, Josh Huestis and Brook Lopez.
Kawhi Leonard and Greg Monroe are also possibly moving on.
Leonard has been rumored to be moving on from the San Antonio Spurs in recent weeks, despite the player claiming back in November that he was not going anywhere. He said, "We'll see what happens next summer, but I'm pretty sure I'll be in a Spurs jersey for my whole life."
His request for an extension remains unresolved however, as well as the issue over his maximum-salary deal, so Leonard could still bow out if he's at odds with the Spurs' direction.
Monroe, on the other hand, is already rumored to have three suitors with the Lakers, Hawks and Knicks. He already planned for an unrestricted free agency this year so he could choose his next team, which is it remains a mystery for now.
Tobias Harris is said pass on Orlando's four-year extension offer with the hopes of signing up with the Knicks. A friend claimed that Harris "wants to win a championship with the Knicks," though his chances of doing so remains unknown.
Tayshaun Prince is rumored to be remaining with the Cavaliers after being shipped off by the Pistons, and he may be joined by Brendan Haywood, who is rumored to be eyed by the Cavaliers.
Other big name players still being sized up, such as unrestricted free agents Marc Gasol, LaMarcus Alridge and Kevin Love, as well as restricted free agents Jimmy Butler and Draymond Green. However, their fates still remain unknown as teams continue to scramble and eye potential players.