Nintendo Miitomo Reaches 4 Million Users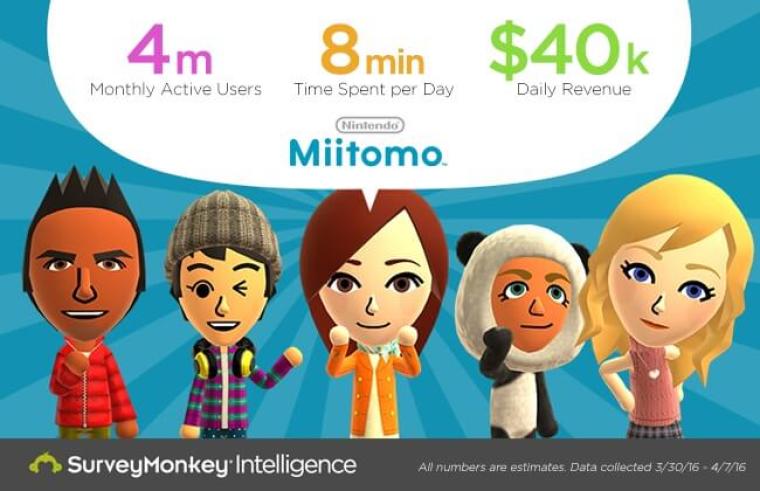 Cranking up estimates on number of downloads, active users, and revenue, a new report suggests Nintendo's first mobile app, Miitomo, is off to a good start. The analysis, however, lacks data on retention which could make or break Miitomo's induction into a mobile classic.
The numbers were crunched by SurveyMonkey, a web-based survey solutions provider. The early analysis provides an idea on how Nintendo's Miitomo is performing so far.
The app reportedly has an estimated four million monthly active users, roughly one million of which use the app every day. An average user spends a total of seven to eight minutes in Miitomo spread out on two to three daily sessions.
Nintendo UK previously shared earlier this month that Miitomo garnered three million downloads worldwide. The company has yet to update this stat officially, but according to SurveyMonkey's report, the app has been downloaded more than 2.6 million times last week. This translates to Miitomo being downloaded an average of 370,000 times from both Apple and Google app stores every day last week. iOS downloads make up about two-thirds of the downloads.
Although the app is free to use, it does feature in-app purchases which is reportedly making Nintendo $40,000 per day or $280,000 per week from both iOS and Android. Revenue from iOS makes up about 80 percent while Android provides 20 percent to the game's monetization. Although this is small compared to what Nintendo earns from its console games, industry observers like Engadget believe it's still a "healthy" amount of cash for a relatively brand new and niche app.
"On a per-user basis, we estimate the app has an ARPDAU (Average Revenue Per Daily Active User) of 3-4 cents," SurveyMonkey said. "While low compared to mid-core games like Supercell's Clash Royale, this is actually a healthy number for a more casual game like Miitomo, especially early on."
Despite these good numbers, the biggest question that remains is whether or not Nintendo's Miitomo is good enough to hook users to stick around. SurveyMonkey says it should be able to tell whether or not the app will become a classic by next week.