Parachute Plane Crash: 11 Skydivers Killed After Plane's Wing Falls Off, Sparking Horrific Crash (VIDEO)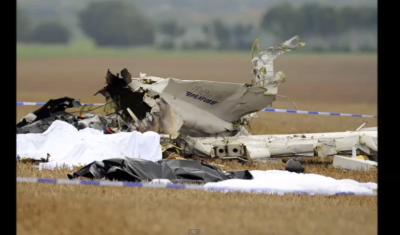 A parachute plane crash has killed 11 people this week in a tragic incident in Belgium.
According to reports, a small plane was carrying a team of skydivers and their instructor, when the pilot lost control of the aircraft and they crashed, killing everyone on board.
Eye witnesses have reported seeing part of the wing of the aircraft break off just a few minutes after it took off from an airport in Namur.
The plane then went completely out of control, spinning into a nosedive, tragically killing all on board.
The town's mayor, Jean-Claude Nihoul, has confirmed to reporters that no one survived the crash, saying: "The plane took off from Temploux Aerodome and crashed in a field about 10 minutes later. The plane partially burned up, could no longer be recognized."
Other eye witnesses have also described seeing some of the skydivers attempt to jump from the aircraft as it went down, however, they all "died in the field."
One instructor from the Temploux parachuting club has said that the passengers on the plane "stood little chance of escape," as no one could have jumped out fast enough to open their parachute and land safely in time.
 Instructor Nicolas Hormans said, "If the plane was in a tailspin, it wouldn't have been possible to jump earlier. The passengers would have been in a centrifuge."
11 People Killed In Belgium Plane Crash