Pile of Ancient Skulls Found in Mexico: Largest Mass Human Sacrifice Site Unveiled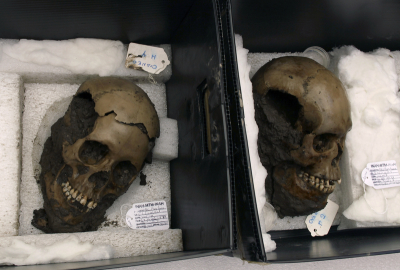 A pile of ancient skulls have been found in Mexico, with reports claiming that they may have been victims of human sacrifices more than a thousand years ago.
The skulls could be part of the "largest mass human sacrifice in ancient Meso-America," and are believed to date back to 600-850 A.D. Some researchers have suggested the find could completely change what scientists believe about the ancient culture of the region at the time.
The extraordinary discovery has been reported in the January edition of journal, Latin American Antiquity. The skulls were reportedly found in an empty field that once was the location of a huge lake miles from the nearest major city at that time.
Co-author of the study, Christopher Morehart, who is also an archaeologist at Georgia State University, has said, "It's absolutely remarkable to think about this little nothing on the landscape having potentially evidence of the largest mass human sacrifice in ancient Meso-America."
The lake where the skulls were found was once called Lake Xaltocan, and was the site of a rural farmland at the time. It has been reported that researchers were using satellite imagery to map ancient canals and lakes that used to surround the kingdom of Teotihuacan.
However, as researchers looked closer into the area they discovered long lines human skulls - each possessing just one or two vertebra. More than 150 skulls have been found to date, and tests have suggested the skulls are at least 1,100 years old, according to Live Science. A majority of the skulls are said to be from males, suggesting those sacrificed were carefully chosen rather than randomly chosen.
Human sacrifices are known to have taken place around the region throughout the period in question, however, until now they were thought to be more contained to major cities, and were connected to state powers.