Planes Collide on Tarmac: JFK Jets Collide Sparking Delay (VIDEO)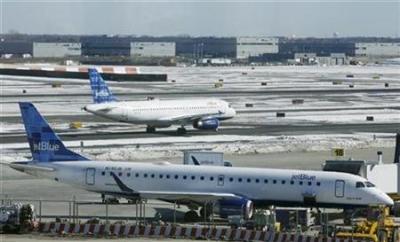 Two planes have collided on the tarmac at New York's John F. Kennedy International Airport early on Saturday morning.
The two planes involved in the incident belonged to JetBlue and Air India, and it is reported that the jets clipped each other as they were taxiing on the tarmac at the airport.
According to reports no injuries have been reported, and a JetBlue spokesperson confirmed that the passengers from the plane involved in the accident were taken off and later boarded a different plane before they departed to West Palm Beach, Florida.
Overall the incident caused the JetBlue flight to be delayed nearly three hours.
Meanwhile Air India did not immediately release any public statement regarding the incident.
The collision took place at about 6 a.m. local time, and caused the JetBlue plane to sustain damage to its tow bar. After the incident the plane remained stationary on the tarmac and awaited crewmen to arrive to carry out repair work to the tow bar.
"At that time another airline's aircraft taxied into the area and made contact with JetBlue's plane. The JetBlue aircraft sustained damage to its rudder and taxied back to the gate," the airline said in a statement.
It is reported that the Air India flight 102 had just landed on the tarmac around 6:19 a.m. local time and was taxing toward the gate when the left wingtip hit the rudder of JetBlue flight 145, which was carrying about 150 passengers.
A transportation source said, "At the end of the day, this is a minor situation. There were no injuries and, not too long after that, passengers that were on the plane went on a new flight and were taken out."
Here is a video news report into the collision between the JetBlue and Air India planes at JFK airport: