Prince William Was 'Sad' During Wedding to Kate Middleton
Prince William recently spoke out about missing his mother, the late Princess Diana, on his wedding day saying that it was the "one time" that he really missed her since her 1997 passing.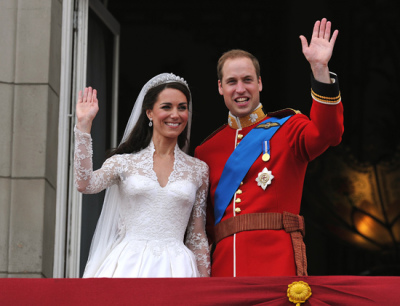 The 29-year-old married his longtime girlfriend Kate Middleton on April 29, 2011 at Westminster Abbey, and while the couple appeared to be in good spirits during the televised event, Prince Williams was reportedly suppressing immense heart break and felt "sad" knowing that his mother would not be there, according to ABC news.
"I sort of prepared myself beforehand so that I was sort of mentally prepared. I didn't want any wobbly lips or anything going on," Prince William told ABC's Katie Couric in a recent interview.
"I think she would have loved the day and I think, hopefully, she'd be very proud of us both for the day. I'm just very sad that she's never going to get a chance to meet Kate," he added.
Prince William's younger brother, Harry, also spoke about his late mother's absence and opened up about his nerves about his role as Best Man.
"I think she had the best seat in the house probably. She would have loved to have been there," Prince Harry said.
"Everybody was nervous. The whole thing was a bit of a blur to be honest because there was God knows how many millions or billions of eyes focused on us. Luckily, mainly those two," he added.
The interview comes just after news surfaced about an upcoming film about Princess Diana that is scheduled for release in 2013.
English actress Naomi Watts will portray the royal icon in the upcoming film "Caught in Flight," which explores the final two years of Princess Diana's life.
The film, which is directed by Oliver Hirschbiegel, focuses on her reported affair with heart surgeon Dr. Hasnat Khan and 43-year-old Watts admits that she is "terrified."
"I'm looking forward to it, but am absolutely terrified. It's going to be a tough one. It's a big beast to take on. I just try to do my best," Watts said at an event at The Orangery in London's Holland Park on Wednesday night.
Kate Middleton Wearing A Stunning Floor-length Cream Gown (VIDEO)
Kate Middleton Spotted Honeymoon Shopping