Rihanna Taunts Karrueche Tran Amid Chris Brown Engagement Rumors?
Rihanna Taunts Karrueche Tran Amid Chris Brown Engagement Rumors?
Rihanna recently posted a cryptic message on her Twitter page which some fans suspect may have been aimed at Chris Brown's ex-girlfriend, Karrueche Tran.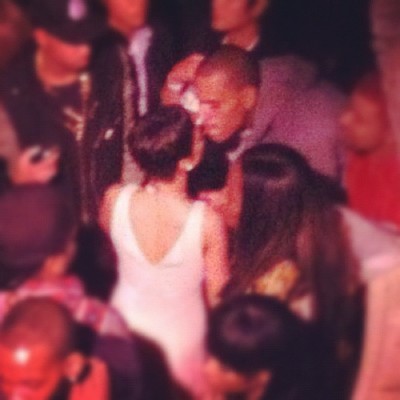 The Bajan singer, who has been accused of taunting Tran over Brown in the past, wrote the suspicious tweet on Oct. 19 just days after her father fueled wedding rumors.
"If you start feeling like a 'chore' to someone, you probably are!" Rihanna tweeted.
Brown, 23, admitted to ending his 2-year relationship with Tran over Rihanna in recent weeks and although the singers have not confirmed their reconciliation, they have been spotted showing public displays of affection. On Sept. 6, prior to Brown and Tran's split, Rihanna and Brown openly kissed at the Video Music Awards and the Bajan singer was accused of taunting Tran after the incident.
Rihanna, 24, retweeted a message from one of her Twitter followers. The user's profile photo was of Rihanna and Brown's VMAs kissing moment.
"Want you to make me feel like I'm the only girl in the world," Rihanna retweeted on Sept. 13.
Just two weeks prior, the singer was accused of mocking Tran's relationship with Brown after tweeting a quote that distinguished real and fake relationships.
"There's a difference between having a real relationship and just being together because that's all you're used to. There's a difference between meaning your 'I love yous' and just saying them every night because 'that's what you do'. There's a difference between being together and wanting to be together. It's a relationship, not a routine," Rihanna tweeted on Sept. 4.
On Friday it was revealed that Rihanna's father, who has openly supported reconciliation between the exes, has forgiven Brown, 23, for the 2009 domestic assault incident involving his daughter. He confirmed that he has no objections to the pair walking down the aisle.
"Whatever makes her happy. I hope one day she will get married. Everyone adores Chris; he's a super guy," Ronald Fenty told Life & Style magazine.
"The family loved Chris Brown before they even met him. I always thought he was extremely talented. He always gave me great respect," he went on.
Friends of the Grammy award-winning singers are reportedly convinced that the pair could wed in the near future following reports that they are back together.
"No one close to them would be a bit shocked if they suddenly eloped. Rihanna has told her close friends point blank- 'I would marry Chris,'" a source reportedly told Star magazine.
"She even says she would have never left him if the media scrutiny didn't get so bad. They're passionate, and when they're drunk, they've both made many comments about getting married," the unnamed source went on.
Rihanna 'Still Loves' Chris Brown, Pair 'Very Close' Despite Karrueche Tran (VIDEO)