Rihanna Twitter Post Reveals Singer's Profound Respect for Naval Forces
Rihanna, whose fans are nicknamed her "Navy," recently revealed just how much admiration she has for the real branch of the United States military.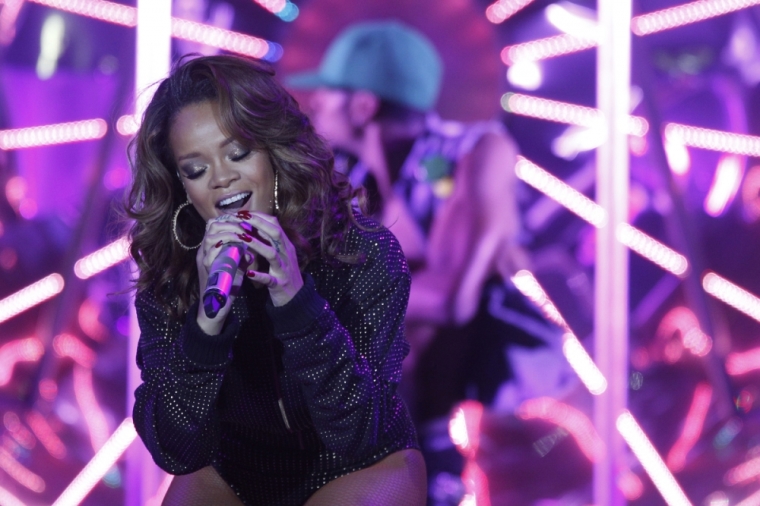 Rihanna, the 25-year-old Barbadian singer, took to Twitter to promote the new movie Lone Survivor about Navy SEALS who are ambushed in Afghanistan. The film was derived from a book that Rihanna recommended to her fans previously.
"Thats that incredible book I told yall about a while back," Rihanna tweeted. "Peter Berg finally made a movie about it with some of my fave Hollywood eye candy."
Berg, a Hollywood Director, previously worked with Rihanna on the 2012 film "Battleship" where she played Cora Raikes, a weapons specialist and crew member on the naval ship USS John Paul Jones. He said he saw something special in the star, after she conducted an interview with Diane Sawyer about her infamous violent altercation with her ex-boyfriend Chris Brown.
The director said the singer did not get any special treatment at her own request, and that she was forced to work on a ship with no bathroom other than the ocean. Berg also revealed that the entertainer performed her own stunts in the movie.
"I mean, there are scenes later in the film where she's sprinting all over [a battleship], and it's, you know, tight little corners. The girl is extraordinarily agile," Berg previously revealed to Entertainment Weekly. "That's all her, getting slammed against walls, you know, being able to take a hit, throwing punches, shooting. She did all of it."
It seems Rihanna's rigorous role has given her a profound respect for the Navy and she tweeted her awe for the military branch.
"Navy Seals are made of a different kind of strength," Rihanna tweeted. "We could never fully grasp the type of mentality it takes to do what they do with pride."