Rock Star Chris Cornell Sings 'Meet Me, Jesus, Meet Me ... in the Middle of the Air' Before Committing Suicide
Rock Star Chris Cornell Sings 'Meet Me, Jesus, Meet Me ... in the Middle of the Air' Before Committing Suicide
Rock star Chris Cornell sang a poignant rendition of "In My Time of Dying" for his band's final song during a concert in Detroit late Wednesday night before he was found dead inside his hotel room, sources said.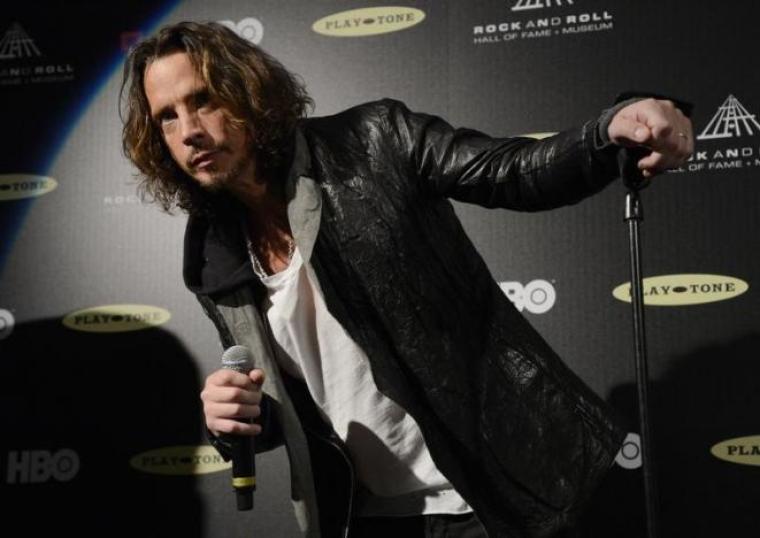 Cornell, the lead singer of Audioslave and Soundgarden, died at the age of 52 after hanging himself, officials said.
"In My Time of Dying," which has been covered by Bob Dylan and Led Zeppelin, contains lyrics referencing Jesus and heaven, and deals with death and mortality. It tells about the things the singer has achieved in life as well as the way they would like to be remembered in death, according to the Telegraph.
The lyrics include the lines: "In my time of dying, want nobody to mourn / All I want for you to do is take my body home / Well, well, well, so I can die easy."
It continues with the verse: "Jesus, going to make up my dying bed / Meet me, Jesus, meet me / Meet me in the middle of the air / If my wings should fail me, Lord / Please meet me with another pair."
The gospel song, which was thought to have originated in Louisiana in the 1920s, is inspired by a Bible passage from the Book of Psalms, according to the Mirror.
A police spokesman told two Detroit newspapers that the singer was found hanging inside the bathroom of his suite at the MGM Grand hotel — just an hour after finishing his final haunting song, The Sun reported.
His body was found in the bathroom after a friend checked on him at the request of Cornell's wife, Vicky.
"The cause of death has been determined as hanging by suicide. A full autopsy report has not yet been completed," the Medical Examiner's Office said in a statement after conducting an initial autopsy.
Celebrities and fans worldwide have expressed their grief, shock, praise, and disbelief at the sudden death of the rock star.
Meanwhile, Cornell's family issued a statement on Thursday questioning the coroner's report that the singer committed suicide, calling the finding "disturbing," Variety reported.
"Without the results of toxicology tests, we do not know what was going on with Chris—or if any substances contributed to his demise," the Cornell family said.
The Soundgarden frontman had a prescription for Ativan and he might have taken a higher dosage, the family said. Ativan can cause paranoid or suicidal thoughts, slurred speech and impaired judgement, a lawyer speaking for the family said.
Ativan is a tranquilizer and anti-anxiety medication that is sometimes used as a sleeping aid.
Vicky, the singer's wife, said she had spoken with her husband on the phone early Thursday just after the show, and she noticed that "he was slurring his words; he was different."
"When he told me he may have taken an extra Ativan or two, I contacted security and asked that they check on him," she said.
"What happened is inexplicable," Vicky said. "I know that he loved our children and he would not hurt them by intentionally taking his own life."
"Chris's death is a loss that escapes words and has created an emptiness in my heart that will never be filled. As everyone who knew him commented, Chris was a devoted father and husband," she added.