Rove Mocks Palin: 'I Wouldn't Leave Office Midterm' (VIDEO)
Republican political consultant Karl Rove has spoken out against Sarah Palin following her Saturday appearance during the Conservative Political Action Conference.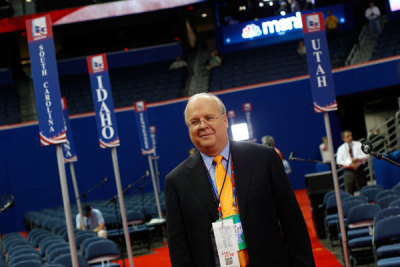 Palin made critical remarks about politicians in Washington, D.C. during the last day of the conference, comparing their performance to that of a reality show. She was also critical of Mayor Michael Bloomberg's ban on soda in New York City.
Palin then directly insulted Rove by stating the he should reconsider his career as a political advisor.
"If these experts who keep losing elections and keep getting rehired and getting millions -- if they feel that strong about who gets to run in this party, then they should buck-up or stay in the truck," Palin told CPAC Saturday, referring to Rove. "Buck up or run. The Architect can head on back to the great Lone Star State and put their name on some ballot –- though for their sakes, I hope they give themselves a discount on their consulting services."
Rove responded to Palin on Sunday during an interview on Fox.
"I'm a volunteer and I don't take a dime with my work from American Crossroads and pay my own travel expenses out of my own pocket and I thought she was encouraging volunteer grassroots activity and I'm a volunteer," Rove said.
"Second of all, look, I appreciate encouragement I ought to go home to Texas and run for office and, it would be news if I did to have her support. But I don't think I'm a good candidate-- a kind of balding, fat guy. And second, if I did run for office and win, I would serve out my term and I wouldn't leave office midterm," he added.
Leaving midterm refers to Palin's infamous resignation midway through her term as the governor for Alaska.