Sean Combs New Tattoo Photos: P Diddy Gets 'New York' Tattoo While Cutting Hair (PHOTOS)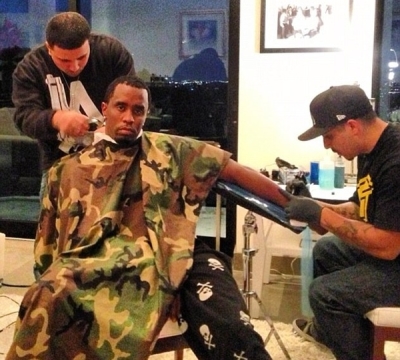 Sean Combs' new tattoo has gotten his fans talking after the rapper posted a series of photos to his social media pages showing him getting a new ink put on the back of his forearm.
The rapper, aka P Diddy, first of all posted a photo of himself sitting down with a camouflage hairdressing cape over him, as one man cuts his hair behind and another goes to work on his new tattoo on the side of him.
The photo also shows Combs with a completely straight face on him, not wincing even a little as the two men work on his hair and his tattoo - keeping in with his ice cool persona.
Combs posted that photo alongside the words, "Gettin a Tat and Cut at the same damn time!! These ****** can't multitask...ha."
Soon after he also posted more pictures onto his Twitter account; one showing a close up of his new tattoo on his forearm, another photo zoomed back a little more to show Combs posing holding up his forearm, and then a third photo showing the rapper posing next to the tattoo artist who just put the ink on his forearm.
The tattoo is a simple text tattoo showing the words "New York" across his forearm with the letters "N" and "Y" featured in curly font, where as the rest of the letters are in block capital upper-case.
Combs is wearing a white vest along with some swear trousers featuring numerous skull and cross bones on them.
The tattoo photos came as the rapper made headlines on Friday for holding the first ever Instagram fashion show. The rapper-fashion designer held the event to coincide with New York Fashion Week, which is taking place as the New York area has been hit by around a foot of snow, as well as strong winds and blizzard conditions.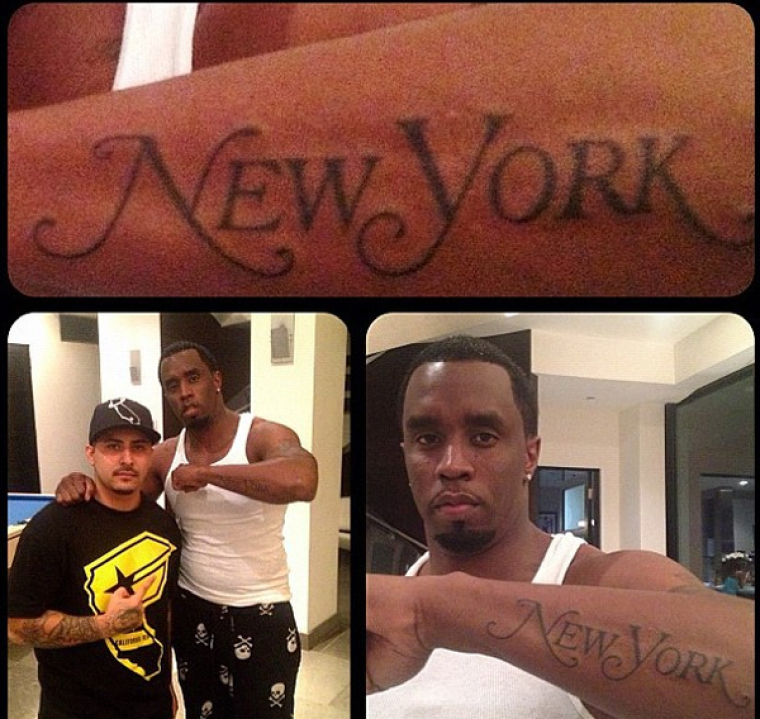 Combs said about his Instagram show: "In honor of New York Fashion Week we wanted to do something that has never been done before. With Instagram technology we are bringing Sean John to the social media runway where our consumer lives."