Sheep-Eating Plant: Gigantic 10-Foot-Tall Plant to Bloom, But No Animal Eating Encounter Yet (PHOTO)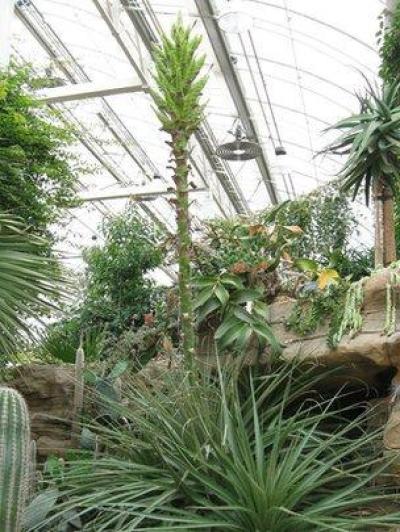 A "sheep-eating" plant raised for 15 years in the U.K. by The Royal Horticultural Society is ready to bloom for the first time, even without any legendary sheep-eating experience under its belt.
The plant's real name is called the Puya chilensis and its native home is in Chile where it is known to trap sheep that get too near its spikes at its base. The sheep cannot get untangle and eventually die, providing fertilizer to the "sheep-eating" plant.
But at The Royal Horticultural Society, no sheep or animal are even in sight as the Puya chilensis has been growing in a greenhouse for the last decade and a half. Caretakers have provided fertilizer to the plant and taken care of its need to "eat" a sheep.
After many years, the plant has grown to a gigantic 10-foot-tall height and is ready to bloom.
"I'm really pleased that we've finally coaxed our Puya chilensis into flower. We keep it well fed with liquid fertilizer as feeding it on its natural diet might prove a bit problematic," said Cara Smith, who cares for the plant at RHS Garden Wisley, in a statement. "It's well worth a visit but parents coming along with small children don't need to worry about the plant devouring their little ones. It's growing in the arid section of our Glasshouse with its deadly spines well out of reach of both children and sheep alike."
Video :'Sheep eating plant' finally blooms in UK