'Star Wars The Old Republic' Video Game New Cinematic Trailer: 'Knights Of The Eternal Throne' Expansion Release Date Announced Ahead of Rogue One
The "Knights of the Eternal Throne" expansion pack can be downloaded for free by those gamers who have "Star Wars: The Old Republic" subscriptions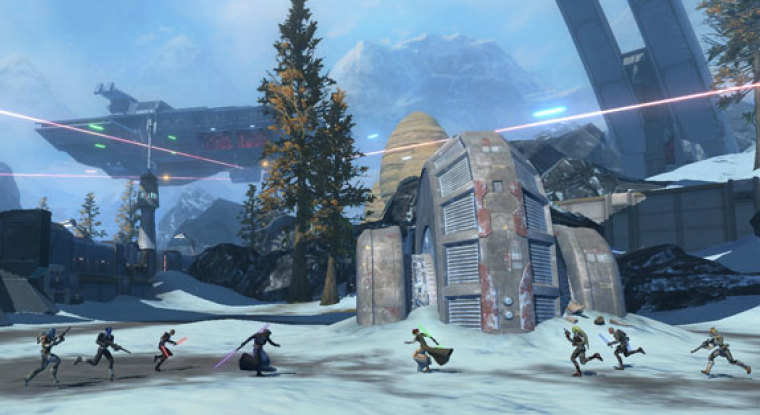 Bioware, a video game developer under Electronic Arts, just dropped a brand new cinematic trailer for the latest "Star Wars: The Old Republic" digital expansion pack called the "Knights of the Eternal Throne."
The promo teaser entitled, "Betrayed," was unveiled last Friday, Oct. 7 and has been raking in a lot views on YouTube. Just a few days after its release, the video has been watched for more than 2 million times already.
The cinematic trailer has been raved about by a lot of fans; some are claiming that it's even better compared to many "Star War" films, and the best "Star Wars" movie you have never seen.
The six-minute mini-film is truly a must-see. It is just as much visually captivating as it is appealing to one's emotions.
And, the storytelling is just superb that it prompts some fans to suggest that the game developer's creative team be awarded by Disney with the screenplay job of the "Star Wars" films. You can check out the video below.
'Knights Of The Eternal Throne' Expansion Details
According to a press release from BioWare, the "Knights of the Eternal Throne" expansion pack will be released this coming Dec. 2. It can be downloaded for free by those gamers who have "Star Wars: The Old Republic" subscriptions.
The new expansion is going to pick up where the previous expansion left off. Gamers will take the role of the Outlander, who is described as a veteran of the Great Galactic War and was introduced in the "Knights of the Fallen Empire."
In their quest to reign supreme on the Eternal Throne, the gamers will encounter powerful evil forces along the way like Emperor Valkorion and his daughter Empress Vaylin. They will also have the power to choose between the light and dark sides.
Gamers Can Avail of the Pre-Order Rewards
To entice more subscribers and as an added bonus to loyal fans, Pre-Order Rewards can also be availed by those who will get their "The Old Republic" subscriptions within a certain period of time.
Those who will subscribe before Oct. 25 will get the chance to unlock a special character to be their ally. They will receive Shae Vizla, a mercenary bounty hunter.
For those who will have their subscriptions by Nov. 27, they can get the Rapid Recon Walker Mount. While, those who will subscribe for the entire duration, will have a 3-day early access to the "Knights Of The Eternal Throne" expansion.