Subway Footlong Lawsuits: 2 Filed on Same Day, Company Responds (VIDEO)
Subway Footlong 'Not Intended to Be a Measurement of Length,' Says Company
Two Subway footlong lawsuits hit the courts Tuesday as two New Jersey men, John Farley of Evesham and Charles Noah Pendrack of Ocean City, are suing because their sandwiches aren't 12 inches. The lawsuit is piled on top of another Chicago lawsuit Tuesday and a viral video of a Subway "footlong" measuring only 11 inches last week.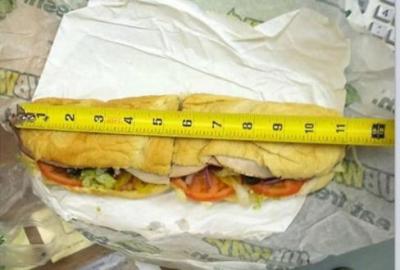 The Subway footlong, marketed as being 12 inches with tape measures in various franchise commercials, has seemingly come up short on a number of occasions. For that reason, Farley and Pendrack filed a lawsuit in N.J. Superior Court in Mount Holly, according to the Associated Press.
Their lawyer, Stephen DeNittis, said he visited 17 Subway sandwich franchises, and at every single one, not one sandwich measured 12 inches. After filing the class action lawsuit in New Jersey, he's also prepared to take the case to court in Philadelphia.
"The case is about holding companies to deliver what they've promised," DeNittis told AP. His clients came to him after hearing the news about the Australian teen Matt Corby who posted a video of his 11-inch Subway sandwich. Several days later, the video went viral, getting over 100,000 likes, and forcing Subway to respond.
"With regards to the size of the bread and calling it a footlong, 'SUBWAY FOOTLONG' is a registered trademark as a descriptive name for the sub sold in Subway Restaurants and not intended to be a measurement of length," the company wrote on its Facebook page. "The length of the bread baked in the restaurant cannot be assured each time as the proofing process may vary slightly each time in the restaurant."
Nevertheless, Nguyen Buren, a Chicago man, filed a similar lawsuit Tuesday after receiving a Subway sandwich less than 11 inches long. Buren's lawyer, Tom Zimmerman, claims the restaurant chain is engaging in a "pattern of fraudulent, deceptive and otherwise improper advertising, sales and marketing practices," and is seeking $5 million in damages.
A missing inch or two on a footlong sandwich may seem small, but in a company with over 38,000 stores selling footlongs for over five years, it adds up to a lot of bread, meats, and toppings absent.
Subway seems to be attempting to quell customers' complaints before they go further. They did not address the lawsuits, but did say they would try harder to make footlongs 12 inches.
"We have redoubled our efforts to ensure consistency and correct length in every sandwich we serve," the company said in a statement Thursday. "Our commitment remains steadfast to ensure every Subway footlong sandwich is 12 inches at each location worldwide."