Subway Responds to 'Footlong' Outrage: 12-Inch is 'Descriptive Name, Not Measurement'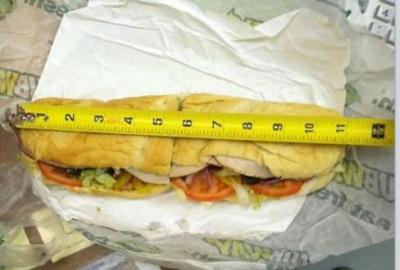 Subway restaurant has responded to its recent footlong criticism which has consumers up in arms over the length of its sandwiches, with the fast food chain advising the public not to take its advertised measurements literally.
On Wednesday Subway, one of the world's fastest growing franchises, immediately began implementing damage control after executives were left red-faced when an Australian Subway customer uploaded a photograph of his "12 inch" footlong sandwich on Facebook alongside a tape-measure, revealing it was only 11 inches.
The company, which is renowned for its 12 and 6 inch sub advertising, claims that consumers have simply misunderstood company advertising, according to Buzzfeed.
"With regards to the size of the bread and calling it a footlong, 'SUBWAY FOOTLONG' is a registered trademark as a descriptive name for the sub sold in Subway® Restaurants and not intended to be a measurement of length. The length of the bread baked in the restaurant cannot be assured each time as the proofing process may vary slightly each time in the restaurant," Subway Australia wrote in a Facebook post. The statement however has since been removed.
Matt Corby, the man who shared the now viral photograph on Tuesday, demanded answers after he was left disappointed by the length on his footlong. "Subway pls respond," Corby wrote in the photo caption alongside the photo, which quickly garnered more than 100,000 "likes."
Subway lovers across the globe immediately began lashing out after viewing Corby's photo, with some blasting the company for "false advertising" and "ripping off" customers.
The backlash forced Subway executives into a panic and while Wednesday's statement appeared to lay blame on consumers, a more recent statement reveals that the company has since accepted blame.
"As you know, all of our sandwiches are made to order, and our bread is baked daily in every one of our more than 38,000 restaurants in 100 countries worldwide. We have policies and procedures in place to ensure that our products are consistent and have the same great taste no matter which Subway restaurant you visit," a Subway spokesman told The Huffington Post via email Thursday.
"We have seen the photo you referenced of a Subway sandwich that looks like it doesn't meet our standards. We always strive for our customers to have the most positive experience possible, and we believe this was an isolated case in which the bread preparation procedures were unfortunately not followed," the statement added.