Tamar Braxton Baby Boy? Tiny Accidentally Reveals Secret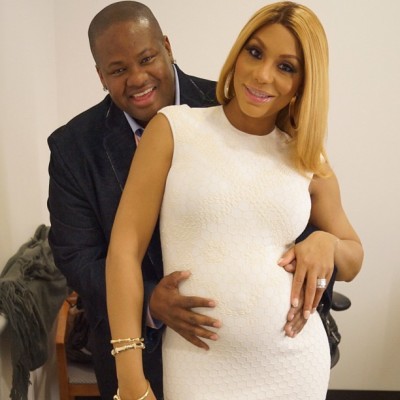 Tamar Braxton recently vowed to keep the sex of her unborn child a secret, but a close friend appears to have revealed what the reality TV star and her husband Vince Herbert are expecting.
During a recent interview, Tameka Cottle, who is best known as Tiny, referred to Braxton's unborn child as a "he." The "Braxton Family Values" star confirmed her pregnancy on ABC's "GMA" on March 13.
"I know everything about this baby. And I know … I was gonna say what it was. I know the baby's name. Of course I know what it is, and I've seen his little face. She has a 4D picture … Oh," Tiny accidentally gushed to HipHollywood.com.
Braxton, 35, and Herbert, 43, had initially hoped to keep their baby's gender a secret and even refrained from divulging any information to family members. However, Tiny appears to have jeopardized that.
"I can't tell my sisters because my sisters will tell everybody," Braxton told People magazine about her unborn baby's sex. "My mom knows because she won't tell."
The singer, who debuted her burgeoning baby bump on "GMA," is yet to confirm her due date, but she did reveal that she is "almost there," prompting speculation that she could be weeks away from giving birth.
Some fans have questioned why Braxton and Herbert, who is Lady Gaga's manager, waited so long to announce the pregnancy. Braxton recently explained that the couple's delayed announcement was simply precautionary.
"Vince and I [were] told we were going to have fertility problems — it was a lot of information— so we had to get comfortable with the fact that it happened on its own," Braxton explained.
"We decided [not to announce the pregnancy] until we were both really okay with it — that's why we waited," she added.
Braxton shared details on her pregnancy cravings, revealing that she is craving potato chips and cheddar cheese. She opened up about how her sisters, which include singer Toni Braxton, are reacting to her pregnancy.
"My sisters are making me feel more maternal because they're crazy. They're giving me advice on how to be a mother and be pregnant," the mom-to-be said.
"They always have a comment about my shoes, what am I wearing, what am I eating, you need to put your feet up and I'm just like, 'I'm fine!' They're too much," she added.