Texas Governor Greg Abbott Says His Faith Was 'Tested' By Jogging Accident That Left Him Paralyzed
Texas Governor Greg Abbott has opened up on how his beliefs and faith play a significant part in his life.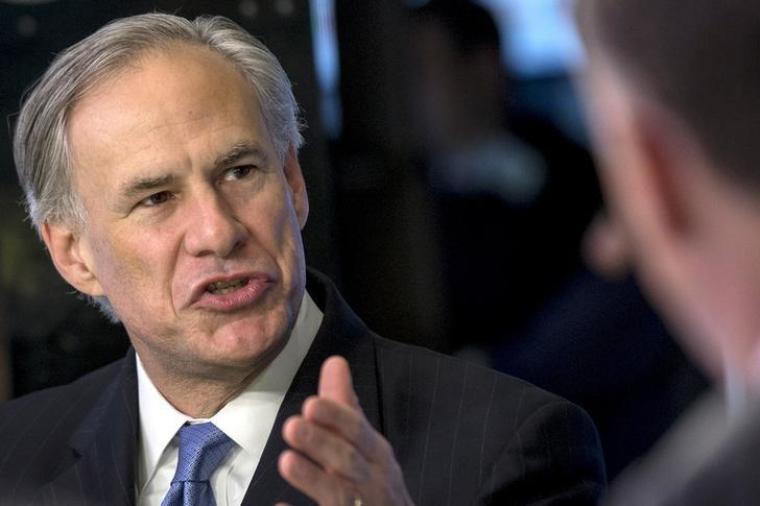 The 59-year-old governor sat with NBC reporter Julie Fine for the network's "Beyond Belief: Faith in Texas" series. He talked about how religion was instilled in his life at such a young age and the role it played in an accident that would change his life.
"Religion and faith have been part of my life for my very beginning," said the former Attorney General of Texas. "My grandfather was a pastor in the countryside of Texas where I grew up, and so it's been just a natural part of my life that has continued through life's events."
He recalled how he "drifted away" from his faith during his teenage years but rekindled his passion for his relationship with God when he was in college and met his would-be wife, Cecilia Phalen.
Abbott became a Catholic after his marriage to Phalen in 1981.
He recounted how his faith was tested during an accident that occurred three years after he got married. While jogging, an oak tree branch fell and hit Abbott's back, which rendered him paralyzed from the waist down.
"One moment I was walking and running and doing everything I had done my entire life," he told Fine. "The next moment, I literally, I would no longer be able to walk."
It was a challenging time for the governor and he looked at his faith to keep him moving forward, though there were some doubts that lingered.
"My faith was tested, and I questioned why something like this would happen, but then I quickly felt the guidance of God and the realization that God has a different pathway for us than what we may think and that we cannot be locked into a certain pathway," he said.
He said the accident brought him closer to God as it pushed him to find the hope and strength to recover.
While he remained in a wheelchair, Abbott realized that his "life hasn't really changed" aside from the fact that he cannot walk anymore.
"What hasn't changed is the core of your life, and if the core of your life is God-centered, then everything is going to work out just fine," said the Texas governor.
He went on to finish law school and be part of the Supreme Court and the state's Attorney-General's office. Abbott would eventually become the governor of the state.
In 2016, Abbott figured in another accident that left him with second and third-degree burns. The governor resolved to stand in his faith to get through it.
"Whenever there is an accident, an injury or tragedy, we always revisit our faith. And it is important to connect back to it," he said.
Abbott said that whenever challenges arise, the best solution is to "connect" with God.
"With God as your guidepost, you will be able to overcome any challenge that ever comes your way," said the governor.
Abbott and his wife remain active in attending their church's weekly services.