'The Walking Dead' Spoilers': Is Rick Going to Lose a Hand?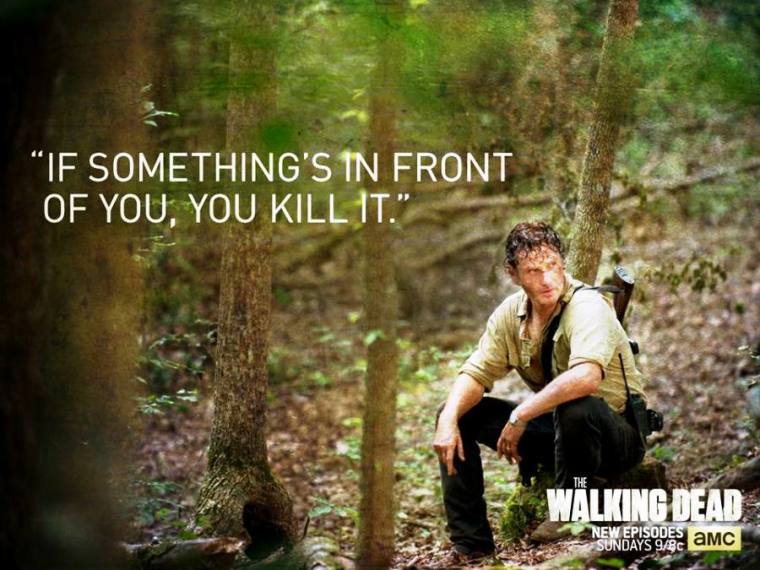 After the shock delivered by "The Walking Dead's" "Thank You" episode showing what seems to be Glenn's death, audiences have been talking about another character losing a part of himself.
With Season 6 Episode 3 of "The Walking Dead" portraying the death of beloved character, Glenn (Steven Yeun), another incident has been creating some buzz, namely how Rick may eventually lose his hand next Sunday.
During the "Thank You" episode, Rick (Andrew Lincoln) encounters a group of walkers feeding on a body, with one of them sporting a machete stuck to its neck. While there have been many other safer ways the protagonists of the show have gotten rid of walkers, Rick chose to shove the zombie so he could stab it, inadvertently wounding himself on the machete.
Tough Rick may scoff at a mere hand injury in the face of human-eating zombies, but the machete may have been contaminated with walker blood, which is theorized to be wending its way into his bloodstream, eventually turning Rick into a walker himself.
The only solution to prevent the blood contamination would be to chop his hand off.
In the comics, Rick does get his hand cut off, which is one of his character's most recognizable physical traits. Lincoln himself tried to get the producers to lope his hand off in the show, as well, but has since been denied.
The question is whether the show's producers have finally agreed to take this path for Season 6, given the storyline in the "Thank You" episode last Sunday.
Audiences may also be wondering if Rick gets to cut off his hand himself, just to show how committed he is.
On the other hand, the machete may not have been infected at all and Rick may simply come out in Episode 4, "Here's Not Here," having simply rubbed a topical antibiotic and stuck a band-aid on his injury, with the worst case scenario being a tetanus infection.
Audiences will just have to wait and see when "The Walking Dead" returns on the AMC on Sunday, November 1, at 8pm CT.